As a child, I have fond memories of spending Saturday or Sunday afternoons coming from Newport News to Norfolk to go to Waterside. It was a great place for family and friends to gather and enjoy good food and good times. As I got older, and moved to Norfolk as an adult, I noticed how Waterside took a turn. News report after news report of bad happenings at Waterside came out, and it was no longer the place to go. So when I started noticing construction taking place, I did some digging and discovered the good news that the new Waterside District was coming to bring that old thing back.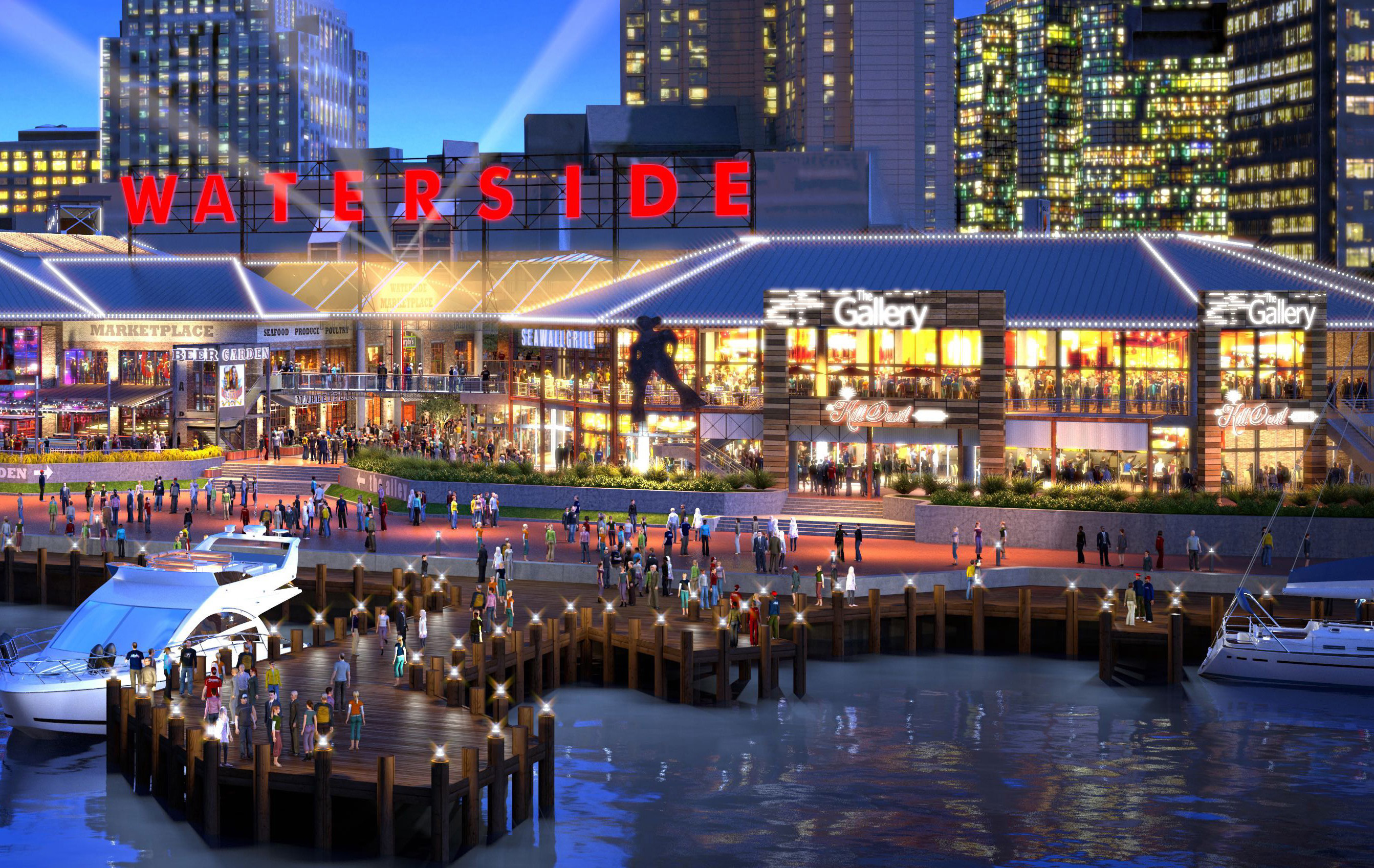 I had the opportunity to sit down with Waterside District President Glenn Sutch to talk to him about what we can expect from the new Waterside, and why he's excited about the project. What he shared made us even more excited, and here's 3 reasons why.
#1 – Welcoming Atmosphere. What Glenn continued to bring to the forefront during our interview was the welcoming atmosphere that Waterside District will bring to the area. Bring friends and families together in one place is very important to him, and he knows that this new space will accomplish that. Young and old, singles and couples, there will be something for all ages at Waterside. It will also be a place to go for local businesses and those who work in the area.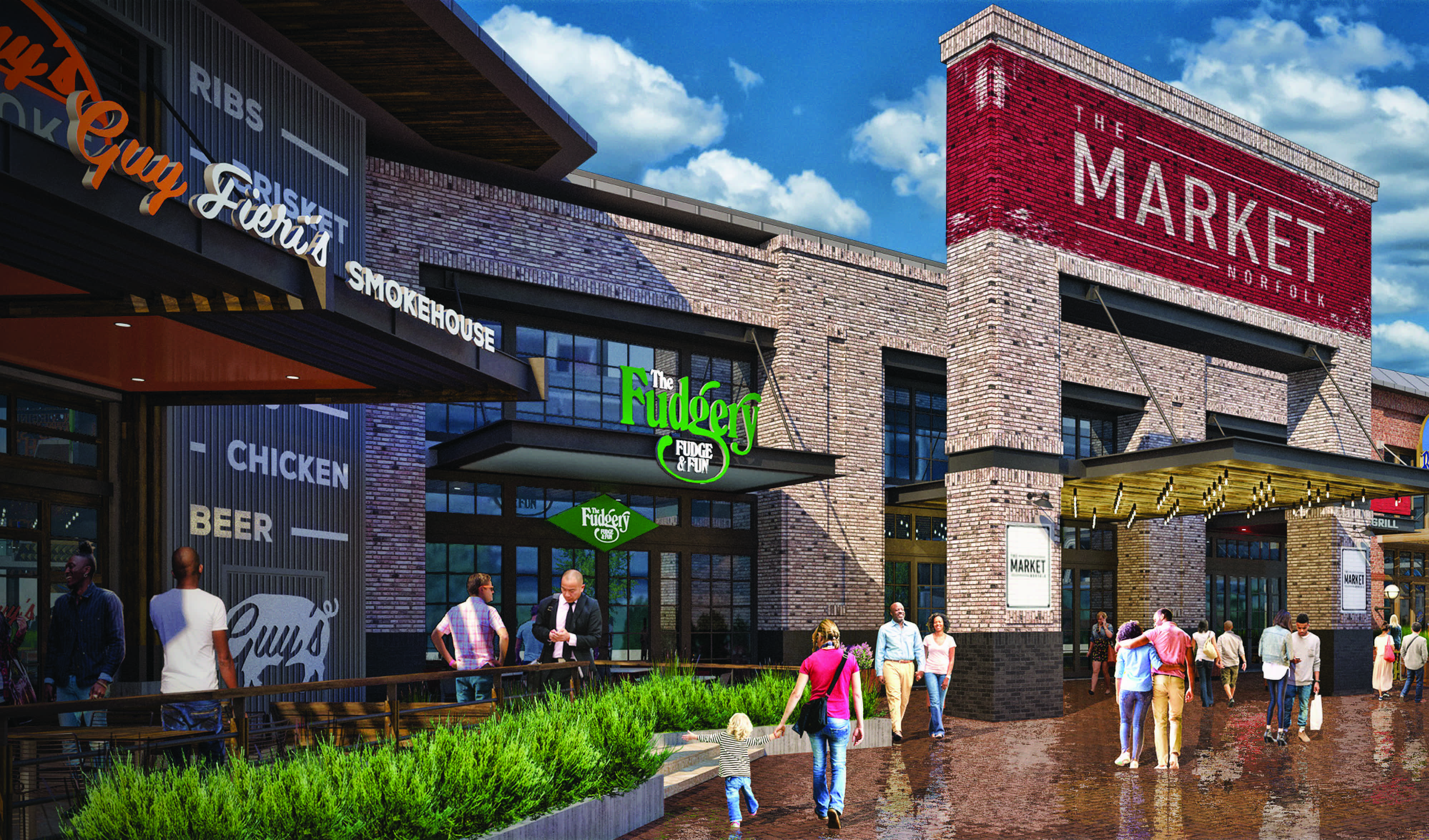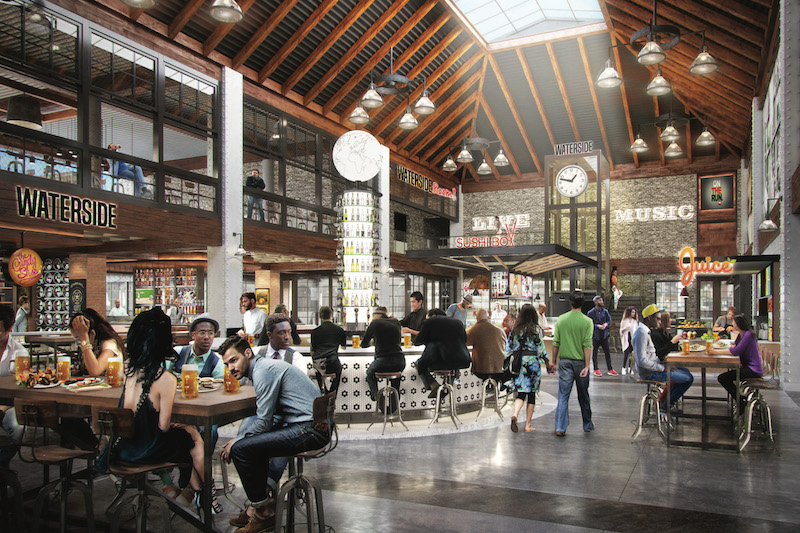 #2 – Various Restaurants. When Glenn started sharing the list of restaurants that will be at Waterside District, I got really excited about the variety of options. Whether you want something quick and inexpensive, or an upscale, fine dining experience, there will be something for you. Then there's The Market at the heart of Waterside District (depicted above), feature a variety of unique food and beverage choices and be the main stage for entertainment, festivals and family attractions.
Here's a list of the restaurants currently slated to be featured at the Waterside District:
Guy Fieri's Smokehouse
Cogan's Pizza
The Fudgery
Carolina Cupcakery
Starr Hill Brewery
Blue Moon TapHouse
Rappahannock Oyster Co
Harbor Club
Luk Fu
#3 – Events & Entertainment. Private events like weddings and conferences will have a home at Waterside District, along with community events live concerts and festivals. Glenn was very excited about bringing new and upcoming artists and performers to the area to showcase their talents at Waterside. I tried to get a sneak peak at who he had in mind, but he was a tough cookie and wouldn't reveal anything. But he assured me that we would not be disappointed. The Market will also be outfitted with large screens tvs as well, making it a place to go for watch the top sporting events and rooting on your fav.
Waterside District is not only bringing the best of food and entertainment to the area, but also an economic boost to Norfolk. Over 1,000 jobs are being created as a result of the new Waterside District. We are looking forward to late April 2017 when Waterside District opens! Stay tuned to Naturally Glam for more updates on what Waterside has to offer, as well as restaurant reviews as well.
What are you most excited to see the new Waterside District bring to downtown Norfolk?