Mr. Blakes agreed to join me in doing the So Buddhalicious vegan weekend challenge, created by Jenne Claiborne and Isabelle Steichen. This challenge involves creating and eating Buddha bowls for a weekend, Saturday & Sunday. A vegan Buddha Bowl, or macrobiotic bowl, is a versatile and balanced one-bowl meal made with veggies, grains, legumes, and spices/sauces, or sometimes with breakfast ingredients like vegan yogurt, fruit, and granola. If you plan it out right, you can prep ingredients once or twice in a week, and just toss your ingredients into a bowl for a balanced meal.
Here are all of the vegan Buddha Bowls that I created following the meal plan, the basic nutritional value of each, and what we thought about each bowl. I used the recipe feature in MyFitnessPal to generate the nutritional value so of course, these are estimates.
Brilliant Berry Bowl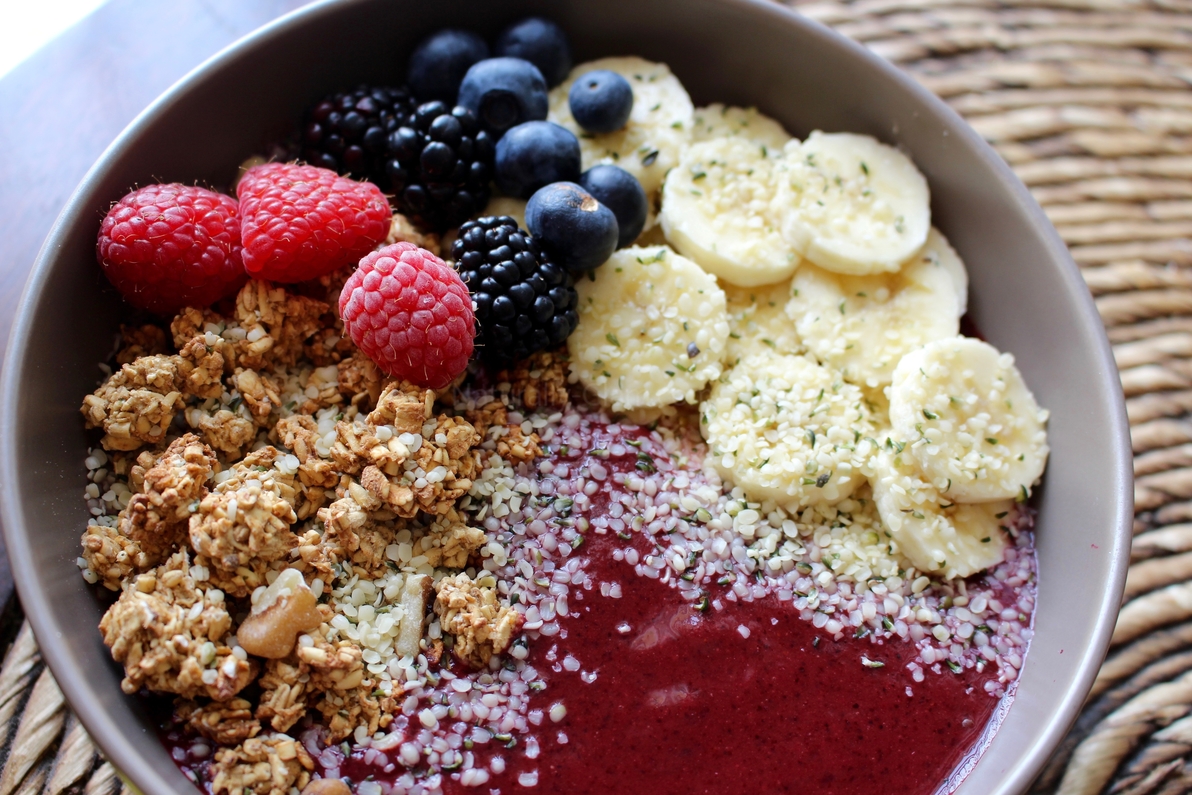 This bowl was a hit, except for the fact that the mango that I used for Mr. Blakes' bowl wasn't ripe, so the smoothie part was tart. I also used a coconut milk 'yogurt' for his, which was a little more watery than the almond milk yogurt I used in mine. So mine was sweeter and a little creamier. All and all, amazing! But very high calorie, so I would consider leaving the mango and banana out of it in the future for myself.
Calories: 788, Fat: 24.5g, Carbs: 132.5g, Protein: 19.7g, Fiber: 18.7g, Sugars: 78.1g
Green Buddha Bowl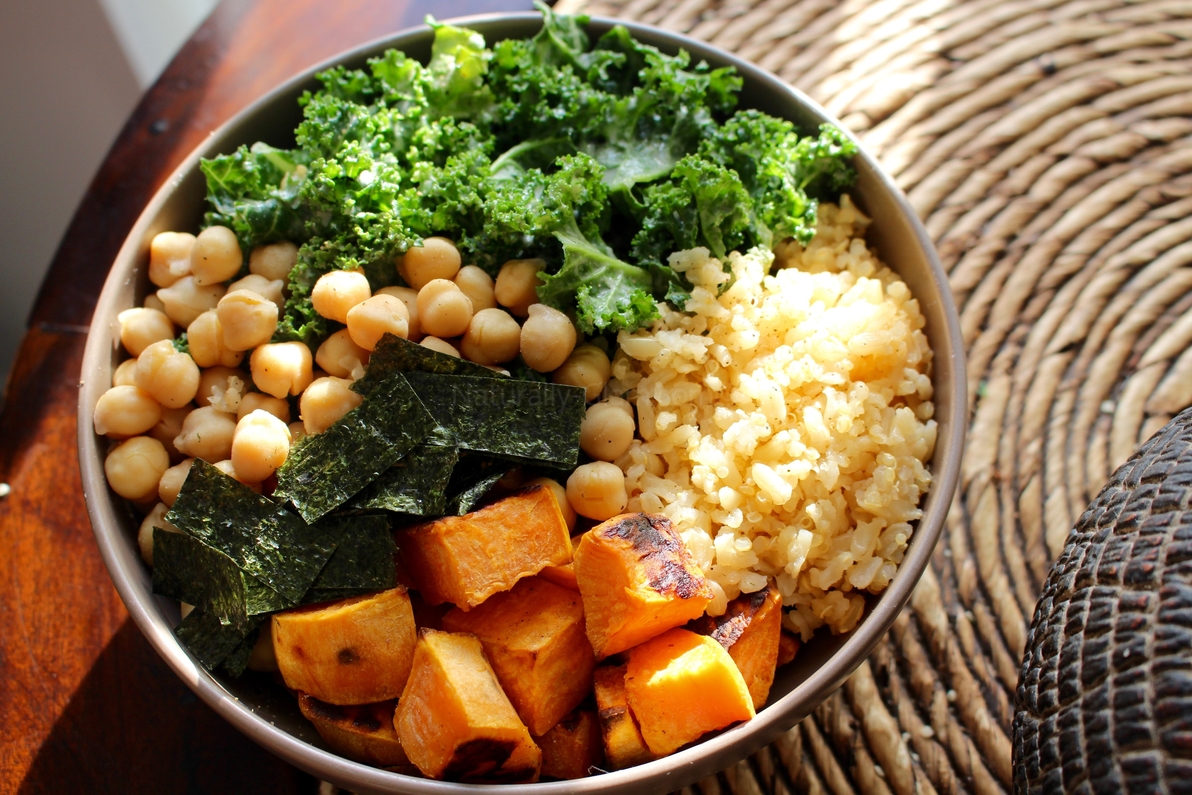 Mr. Blakes really enjoyed this bowl, but I was kinda skeptical because in my mind, I didn't like chickpeas. I was skeptical about the nori too, because I thought it would add a fishy taste. But  once everything was combined, the taste fell into the background. The sweetness of the sweet potato helped balance out the bitterness of the kale. This bowl is a repeated meal, so it was for lunch Saturday and dinner on Sunday.
Calories: 506, Fat: 18.3g, Carbs: 74g, Protein: 17.1g, Fiber: 15.3g, Sugars: 8.8g
Harvest Buddha Bowl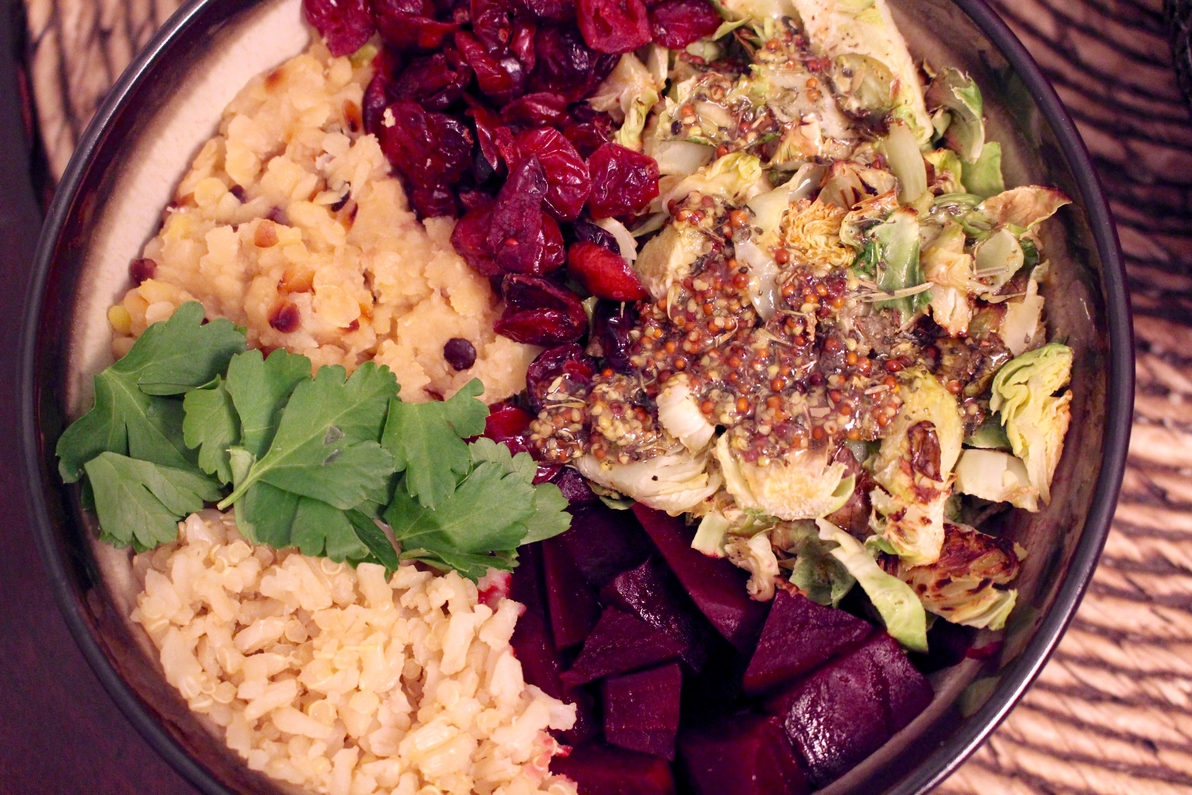 I love lentils and Brussel sprouts, so I was excited about this bowl. As a kid, I loved beets but hadn't eaten them since I was a kid. However, Mr. Blakes was not excited about them; he made it quite clear that he was not a fan. But he did eat a couple, and everything else in the harvest bowl. I think I roasted the Brussel sprouts a little too long, so they were bitter, but the cranberries and beets helped balance that. Mr. Blakes liked the dijon mustard dressing and wanted more, but I only needed a little. Since the dressing was made with olive oil, this bowl is very high in fat, so I would just leave it out all together for myself.
Calories: 910, Fat: 59.5g, Carbs: 79.8g, Protein: 19.1g, Fiber: 14.6g, Sugars: 29.2g
French Toast Bowl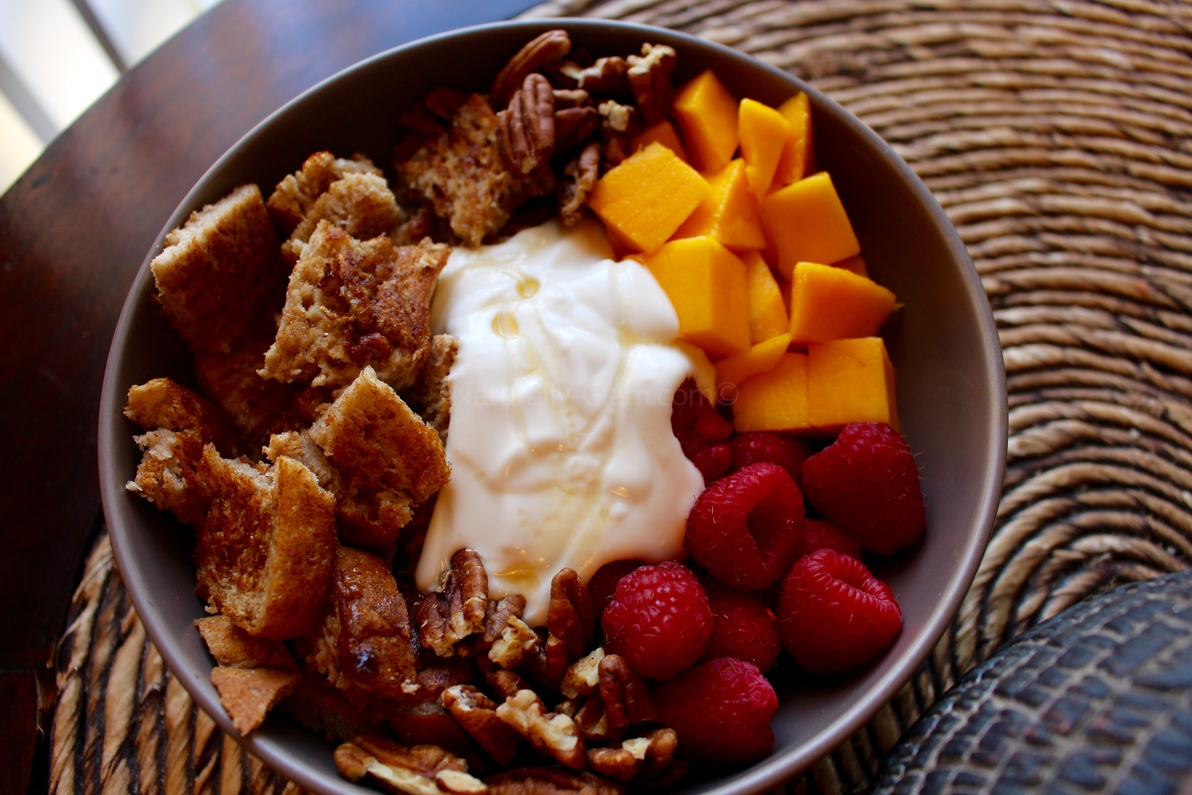 This bowl changed my life. I'll probably never make french toast with an egg again – using ground flax seed mixed with water was genius. For Mr. Blakes, I used the full portion size of bread, but for myself I used half, so the nutritional facts listed below is for my serving size. Kite Hill almond milk yogurt is everything, but at about $2 a pop, it's double the price of greek yogurt. Mr. Blakes is not a fan of dairy yogurt, but he liked the almond milk yogurt surprisingly.  We added a couple pieces of our favorite vegan bacon, because…french toast.
Calories: 269, Fat: 8.3g, Carbs: 51.5g, Protein: 10.6g, Fiber: 13.9g, Sugars: 27.9g
Sweet Potato Falafel Bowl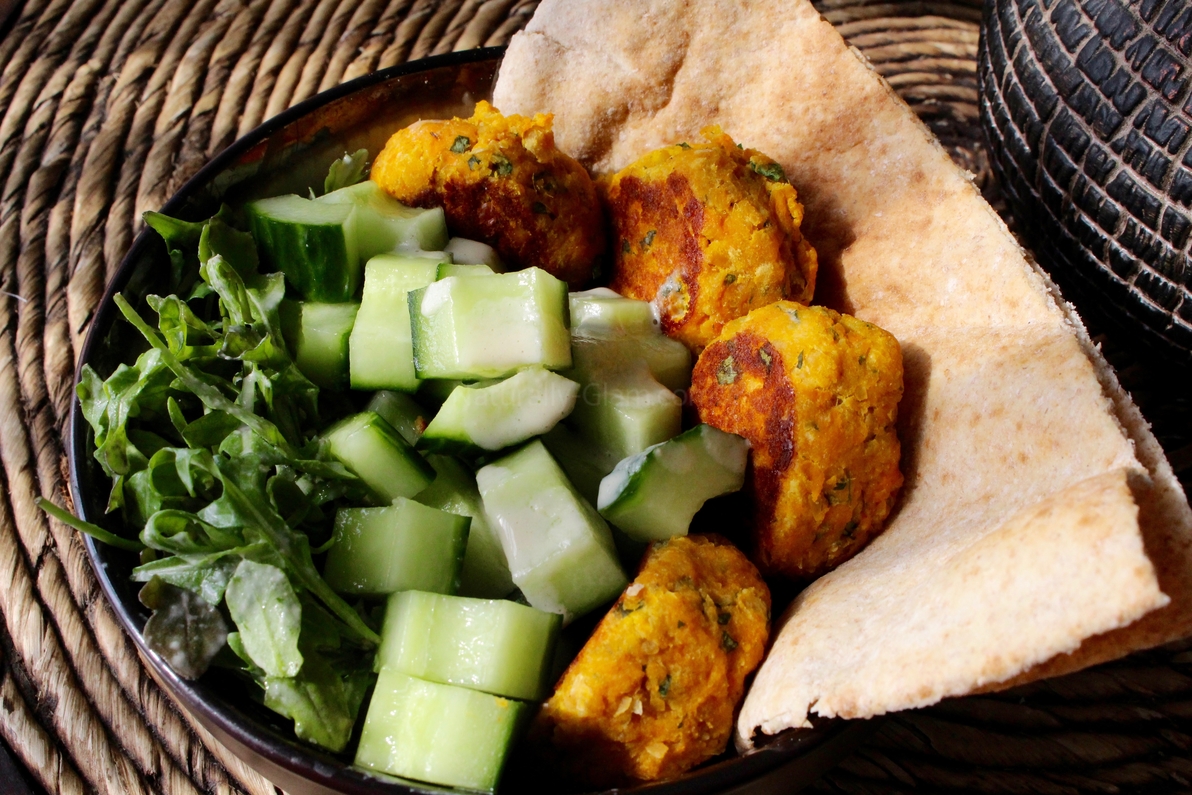 These sweet potato falafel were so easy to make, and of course baking them is a much healthier alternative than deep frying. The arugula gave it a nice bite, and the tahini dressing has a nutty flavor. For me, just a little goes a long way atop the cucumber. I will be making these falafel weekly because they were so good. The perfect on-the-go meal for Mr. Blakes because everything inside the bowl can be stuffed inside the pita pocket.
Calories: 362, Fat: 2.5g, Carbs: 71g, Protein: 16.3g, Fiber: 17.1g, Sugars: 5.3g
To purchase all of the ingredients for the challenge, I spent about $115. That sounds like a lot, but as a couple, we easily spend that going out to eat over the weekend. Several of the items I had to purchase, like maple syrup, tahini, nori, and hemp seeds, will last well past this weekend. Only the yogurt, chick peas, and fresh produce would have to be repurchased to do these bowls again. If I was the only person eating these meals, then the price would be a lot less and those items with a longer shelf life would stretch even further.
While So Buddhalicious says that since their recipes are made up of whole plant-based ingredients you'll never have to worry about counting calories or measuring protein intake again, that may not be the case if you are trying to lose weight and need to know and monitor those things. Day 1 was over 2200 calories alone! Since I'm trying to lose weight, I would need to adjust the recipes to eliminate some of the fat, sugar and carbs. Possibly replacing mango with a low sugar fruit like apples would make a difference, as well as leaving out some of the dressings. But there was plenty of protein, as each bowl averaged between 15-20g. Adding a high protein snack could easily get me to my daily goal of 70g of protein.
For more information on these vegan Buddha bowls, visit So Buddhalicious and sign up for their meal plans and challenges. Would you try these vegan Buddha bowls? Which one would you try first? We'd love to hear about it.
If you're interested in learning more about starting a vegan journey, or just incorporating vegan eating into your healthy lifestyle, check out this video!