This post has been sponsored by the PRIMP Network. All opinions are my own. You know we keep it real on Naturally Glam.
Summer is officially just around the corner, and we are looking forward to longer days and lots more outdoor activities. It is also time to switch things up a bit in the wardrobe department. While it's always fun to introduce what's trending, you can never go wrong with having a few summertime style essentials as your go-to pieces. With brands like Ashley Stewart making classic yet trendy wardrobe pieces for plus size women, you'll look fabulous all summer long. Get 40% off all full price styles using the code PRIMP40 – you're totally welcome!
Ashley Stewart is the go-to plus-size fashion brand for ladies who are fun and confident, and want to stay on trend with the latest and hottest fashion styles. With new fashion items added every day, a growing online store (which is were I shopped for the looks in this post), and 89 stores across the United States, you'll be sure to find lots of looks you'll love. Ashley Stewart offers clothing in extended sizes, up to size 32, wide width, and wide calf shoes, and online exclusive styles.
Here are my top 5 summertime style essentials, featuring pieces from Ashley Stewart:
Essential #1: Tribal Print Swimsuit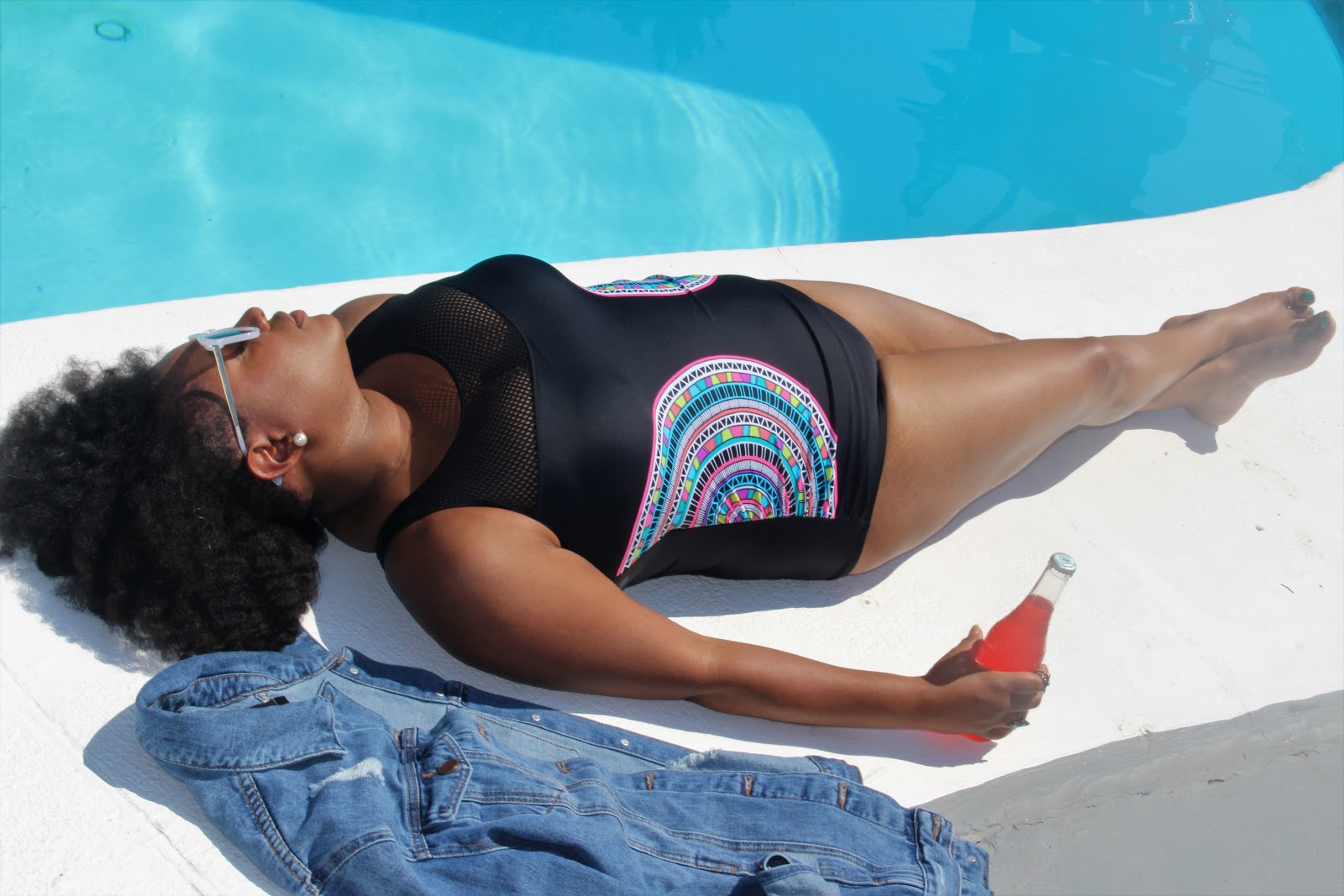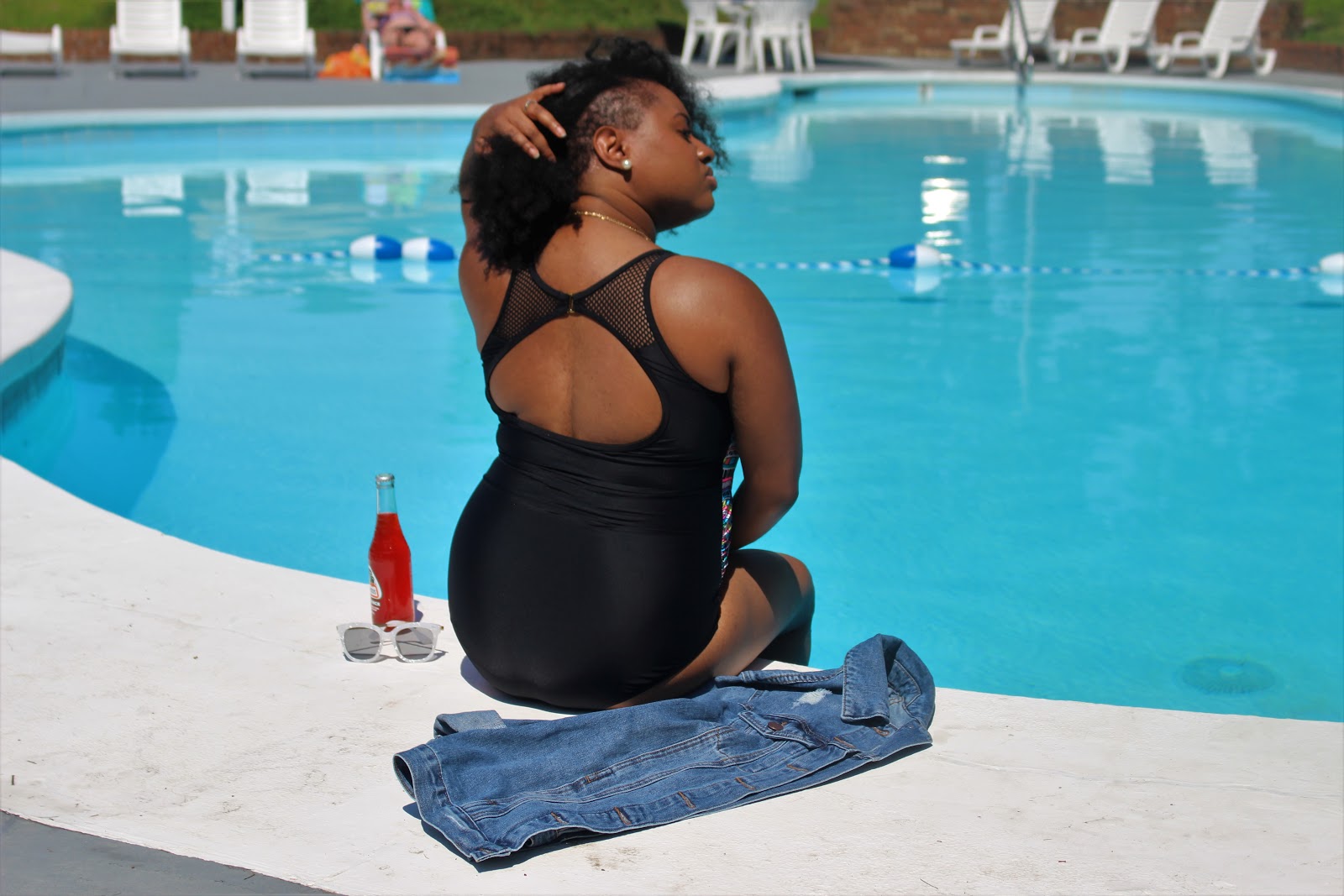 OMG there are so many things to love about this mesh top tribal print swimsuit. The mesh top gives it a more sporty feel. It's black, but with the pop of color and bold tribal print, you are still giving a little fierceness and fun. Let's be honest – most of us feel a little insecure about our tummy area, and this swimsuit gives the illusion of a slimmer waist and creates curves with the shape of the print. I also love how the back shows some skin but stops just short of wear my fat rolls start. NOTE: This is an online exclusive!
Essential #2: Romper with Pockets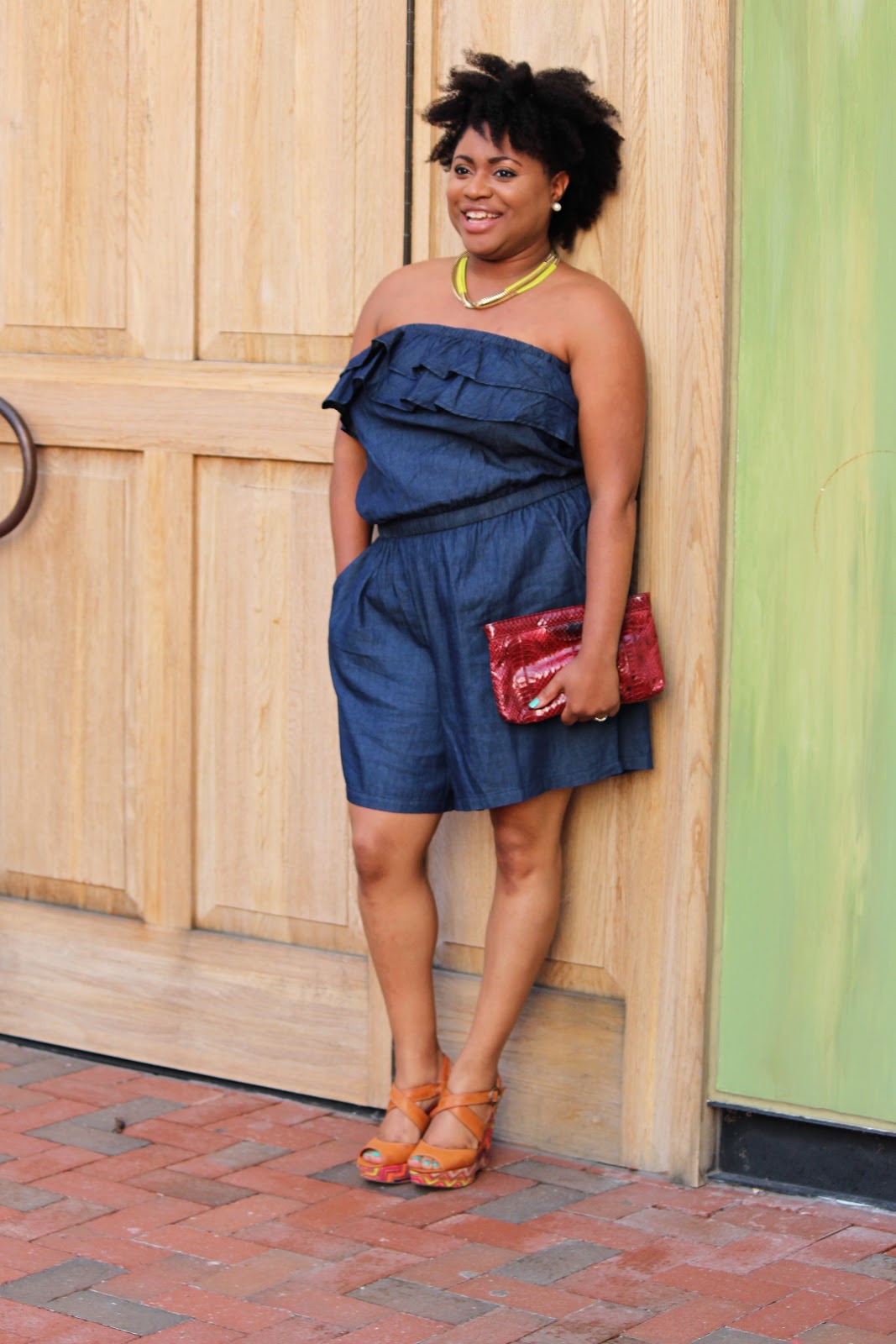 Rompers are a summer staple in my book, and this chambray romper is so adorable. It can be worn with flats or heels, and even though the material has a denim look, it is very cool and lightweight. And who doesn't love pockets? I know I do!
Essential #3: Denim Jacket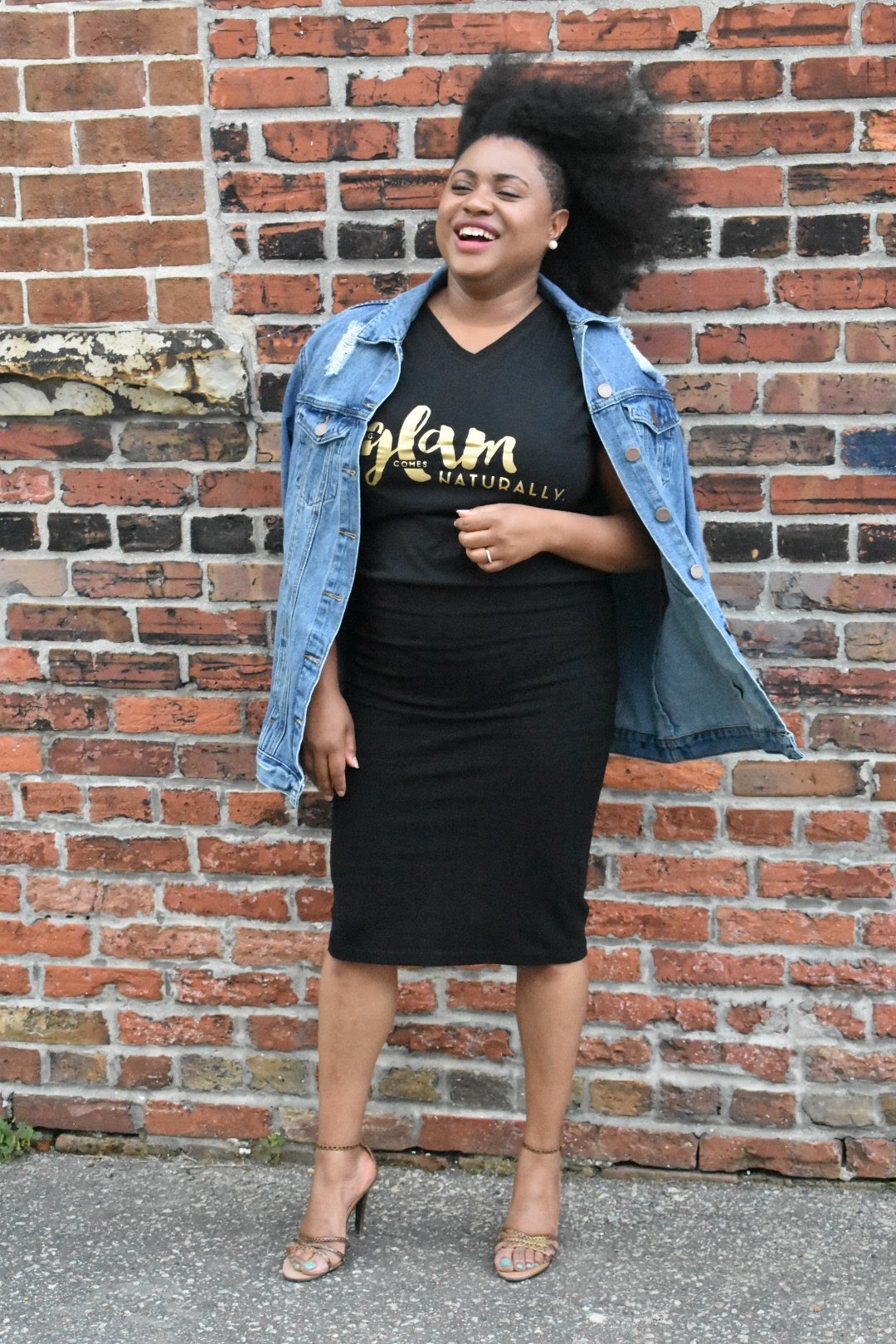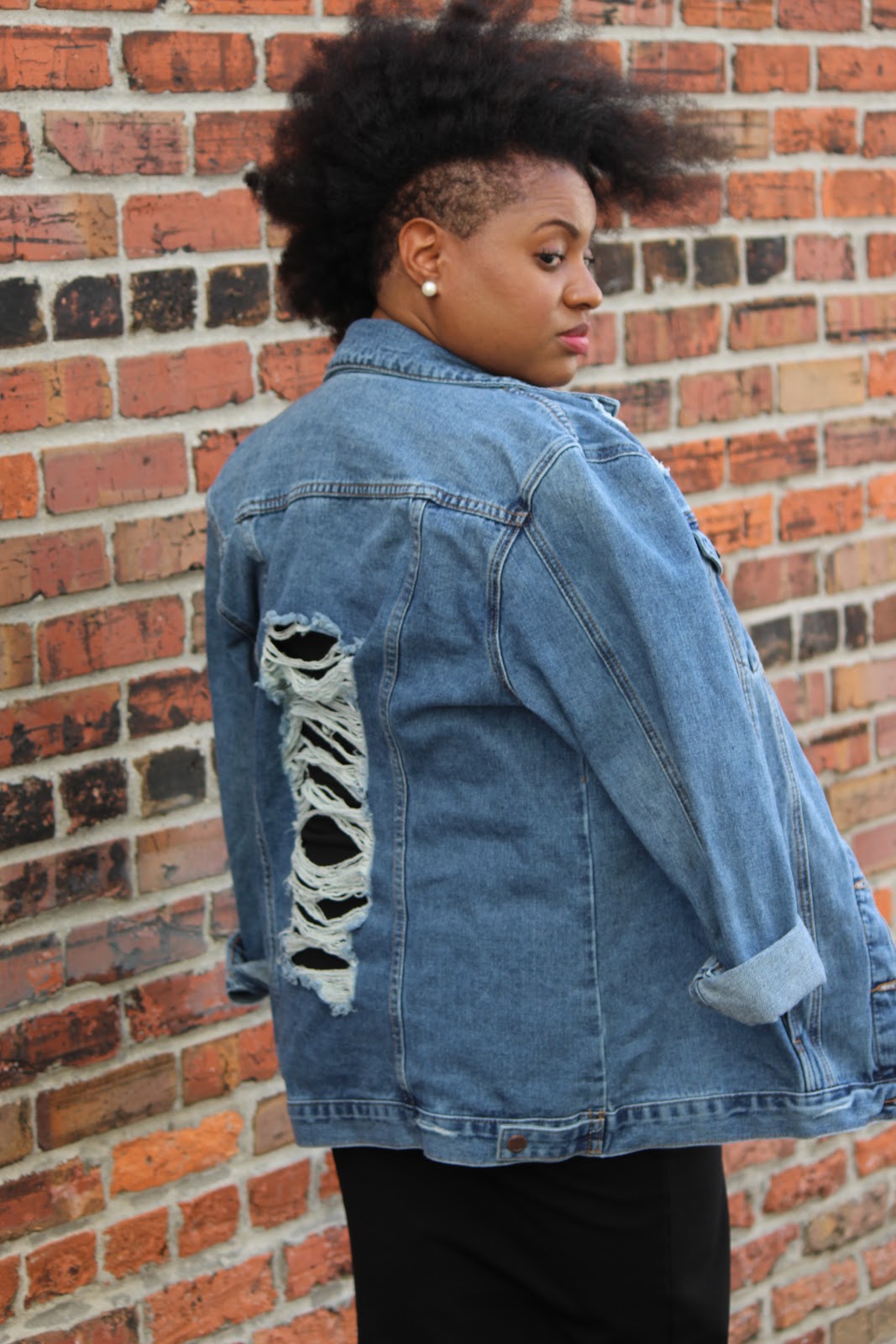 Don't think that just because the temps are high, you don't need a good. This ripped boyfriend denim jacket is great to have on hand, especially when you have to go from the heat outside to inside where the air conditioning may be blasting it's always a great idea to have a denim jacket on hand. Of course I had to pair it with my Being Glam Comes Naturally signature graphic tee that are for sale in the Glam Gear shop. What I love about this oversized jacket is that it can just be worn over the shoulders. I also used this as a cover up at the pool. The distressing is just enough ventilation for the warm weathers and is really on trend.
Essential #4: Off the Shoulder Anything
A huge trend that I personally love is anything off the shoulder. You already saw that adorable romper, and now this double ruffle one-shoulder dress is giving me so much life. This dress is super light-weight, and I love the movement in the ruffles when a cool breeze comes through. This dress comes in white, black, and a peachy color as well.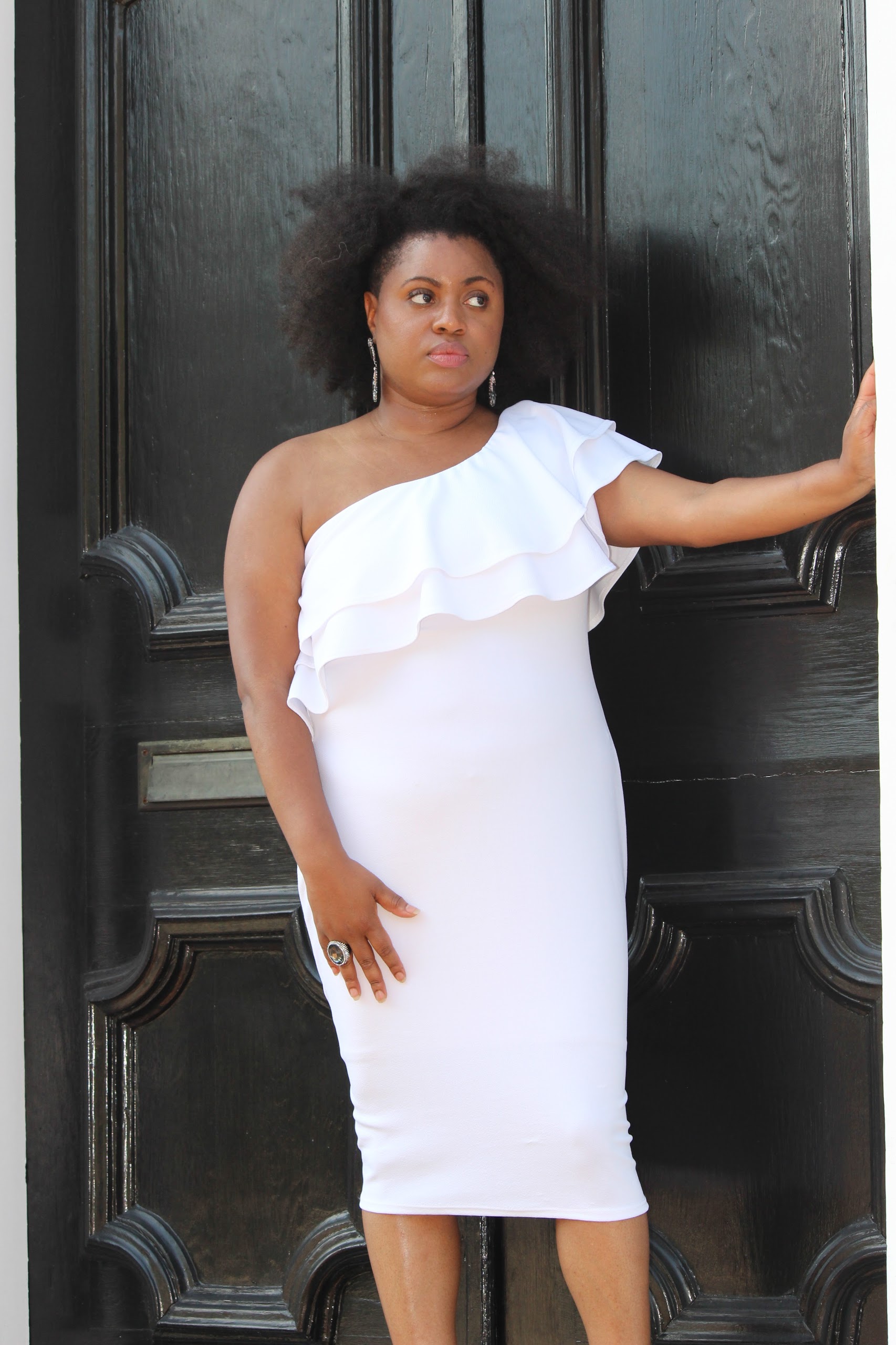 Essential #5: All White Statement Piece
Summer is the unofficially the all-white party season. I usually struggle to find an outfit that I feel confident in, because white is typically unforgiving. But when I tell you Ashley Stewart has you covered – there are so many all white options for plus sized women on this site. That one shoulder dress was just one of tons. Go look for yourself!
Which one of these looks are you feeling the most?
Summertime is all about taking advantage of the bright, sunny days, and long, warm nights to get out and explore. These summertime style essentials will get you through the season looking fabulous. With so many cute and trendy fashions from Ashley Stewart, you can't go wrong. And did I mention you can get 40% off? If you want to check out more stylish looks from other bloggers, get all the summer linen looks from In My Joi or stop by and look at this summer style haul by Agape Love Girl!
If you are a confident, fierce, diva, and Ashley Stewart just launched its national competition in search of YOU, the next Ashley Stewart 2017. They will be traveling across the US for the next few months in search of the Diva who effortlessly personifies the confidence, strength and fierceness that has become synonymous with Ashley Stewart. Get the details here!