A few weeks back, Pepsi was trashed by Black America after they ran an ad featuring Kendell Jenner depicting a protest scene where that ended pleasantly after she handed a police officer a cold Pepsi. The consensus was that the ad was insensitive to those who have taken to the streets in protest against police brutality and killings aimed at Black men and women. Pepsi removed the ad, issued an apology, and we hoped that brands would pay attention to the err in their ways.
Welp, it seems that SheaMoisture might've not gotten that lesson. They released a new ad as a part of their #EverybodyGetsLove campaign that sent Black women over the edge. The 60-second clip features a few women sharing their 'hair hate' stories of how they were teased about their hair or felt their hair wasn't beautiful. But one thing was missing from this ad – Black women with kinky and tightly-coiled hair who make up the majority of the demographic that has supported the SheaMoisture brand from day one.
SheaMoisture is CANCELLED pic.twitter.com/T4Dru1JgAq

— NANA JIBRIL 🌙🏳️‍🌈 (@girlswithtoys) April 24, 2017
If you watch the ad all the way to the end, you'll see that it appears that more diverse people are included that more so represent the core demographic of customers. Maybe too little, too late. Black women took to social media and made it rain, some even calling for a boycott of the brand.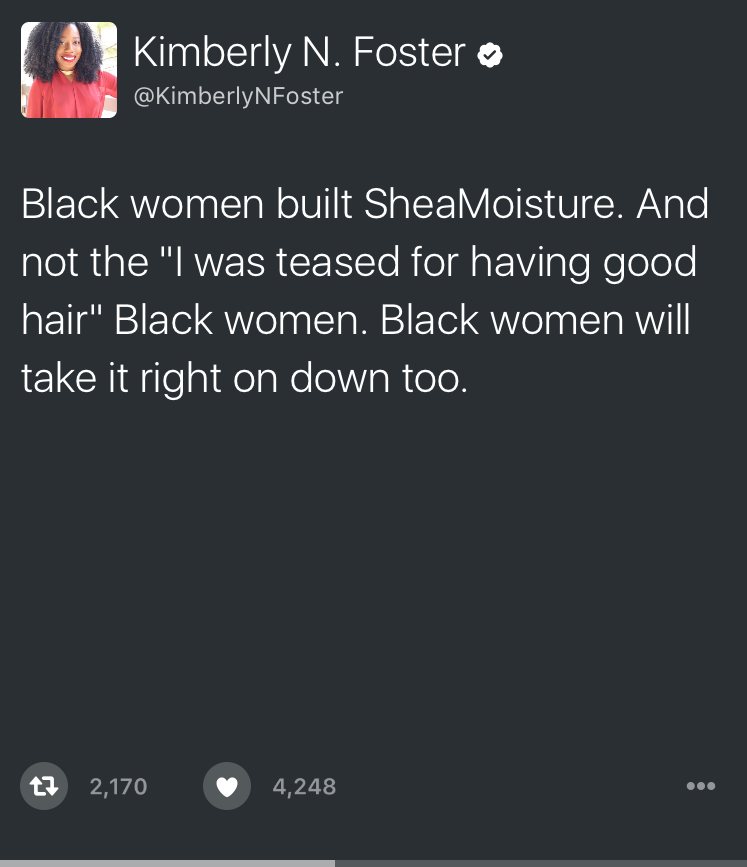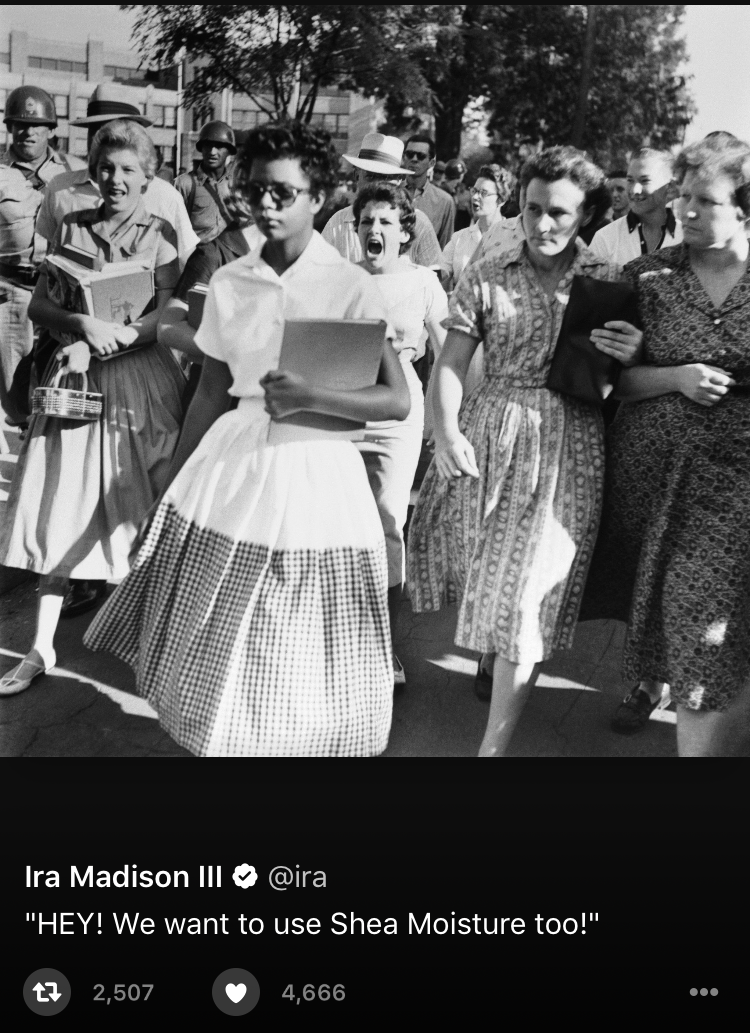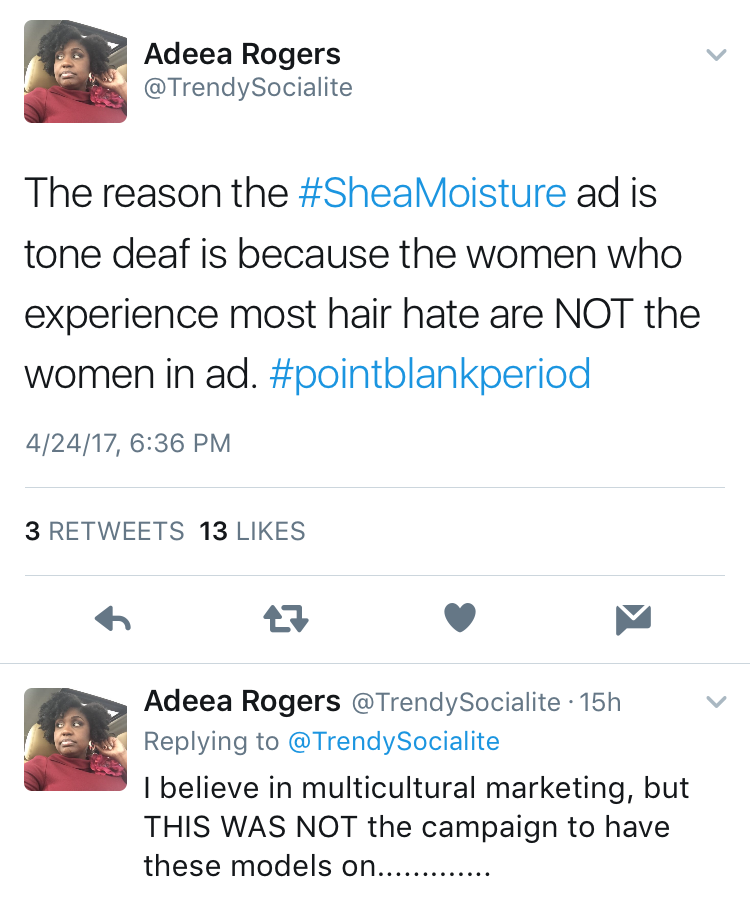 The issue here seems to be that in general, so many beauty and hair brands do not cater to the unique need of our skin tones and hair textures as women of color. That's a fact. Just when Black women finally thought a brand was catering to them, they start to expand to an audience that already is being serviced by the beauty industry. Yet, some don't see the foul in the ad, understanding that most brands will want to expand to a larger, more diverse audience.
Now you might say, well there was a Black girl in the commercial so why are WOC still mad? Frankly because she was very light skinned and had loosely curly/wavy hair. Again, not representative of the majority of Black women who have been loyal customers of SheaMoisture for years. And not representative of the women who have historically received the most hair hate – those with afro-textured hair.
Remember the story line of Angela Bassett's character in Waiting to Exhale, where she helped her husband build up his business, putting her own dreams to the side, and then once he was on top, he left her for a white woman? Yup, that's how many Black women feel about these ads.
SheaMoisture removed the ad, and issued this apology on social media.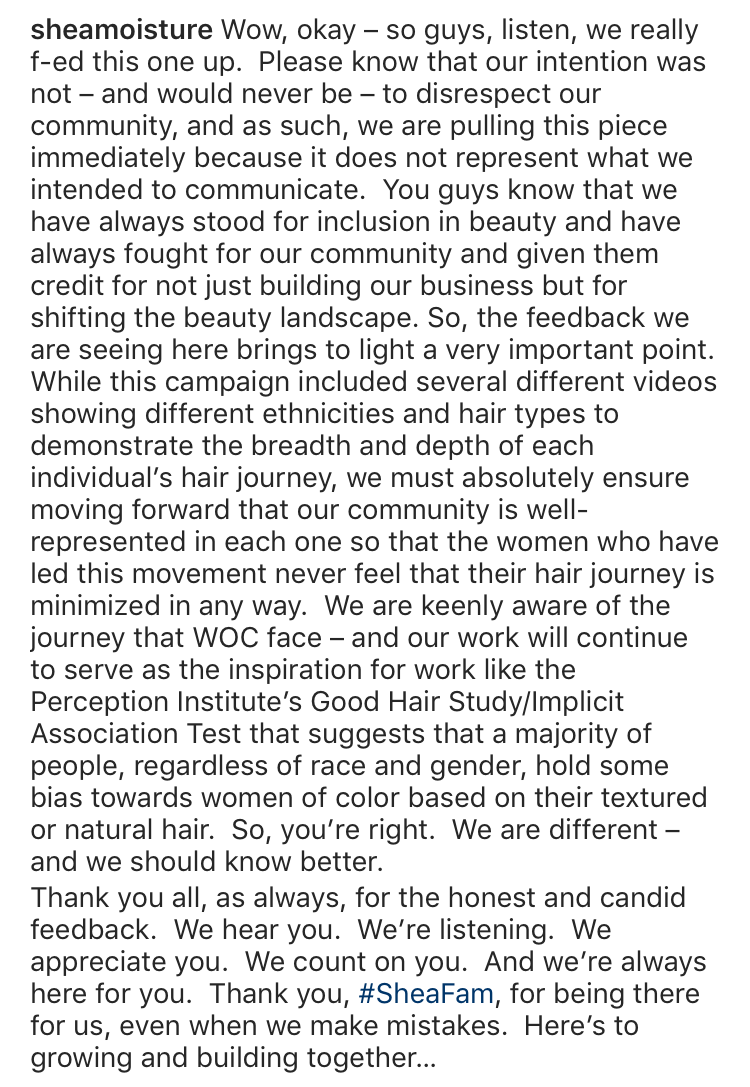 CEO/Founder Richelieu Dennis had this to say about the outrage from Black women who felt the ad left them hanging. "This was not our intent. And I understand how that feels to them…While the campaign is heavily representative of women of color, we didn't explain to the community what the larger campaign is about, which is about women's hair challenges. Women are concerned that as Shea Moisture grows, they want to make sure that we are not abandoning them or leaving them for a larger audience…We're definitely not going away from that, we are increasing our intensity in serving them."
What are your thoughts on these situations – are brands making light of the Black struggle, or are women of color too sensitive? Chime in!