One of the biggest drawbacks for Mr. Blakes when it comes to transitioning to a vegan, plant-based diet, is wanting a hearty meal. Growing up on meat and potatoes, it's hard for him to deal with me and my 'snacking' habits. I also travel quite a bit, and I know he isn't going to cook anything while I'm gone. So this week when we talked about him eating vegan at home since I'll be out of town, his only request was to make some sort of casserole. Challenge accepted! I decided to settle on a vegan shepherd's pie because it is the epitome of a casserole dish, and it's topped with mashed potatoes. Which so happen to be one of Mr. Blakes' favorite things.
The recipe that I decided to use a the basis for this vegan shepherd's pie recipe was this Lentil and Mushroom Shepherd's Pie recipe by VegKitchen with Nava Atlas. You could totally make this a lot easier and faster by not making the mashed potatoes from scratch, but the taste is worth the extra 30 minutes in my opinion. If you'd prefer to not use a meat substitute, you could use beans or lentils as Nava did instead. But I must say that that the Beyond Meat Beefy Crumbles really do help when you're transitioning and you want something that resembles the taste and texture of ground beef.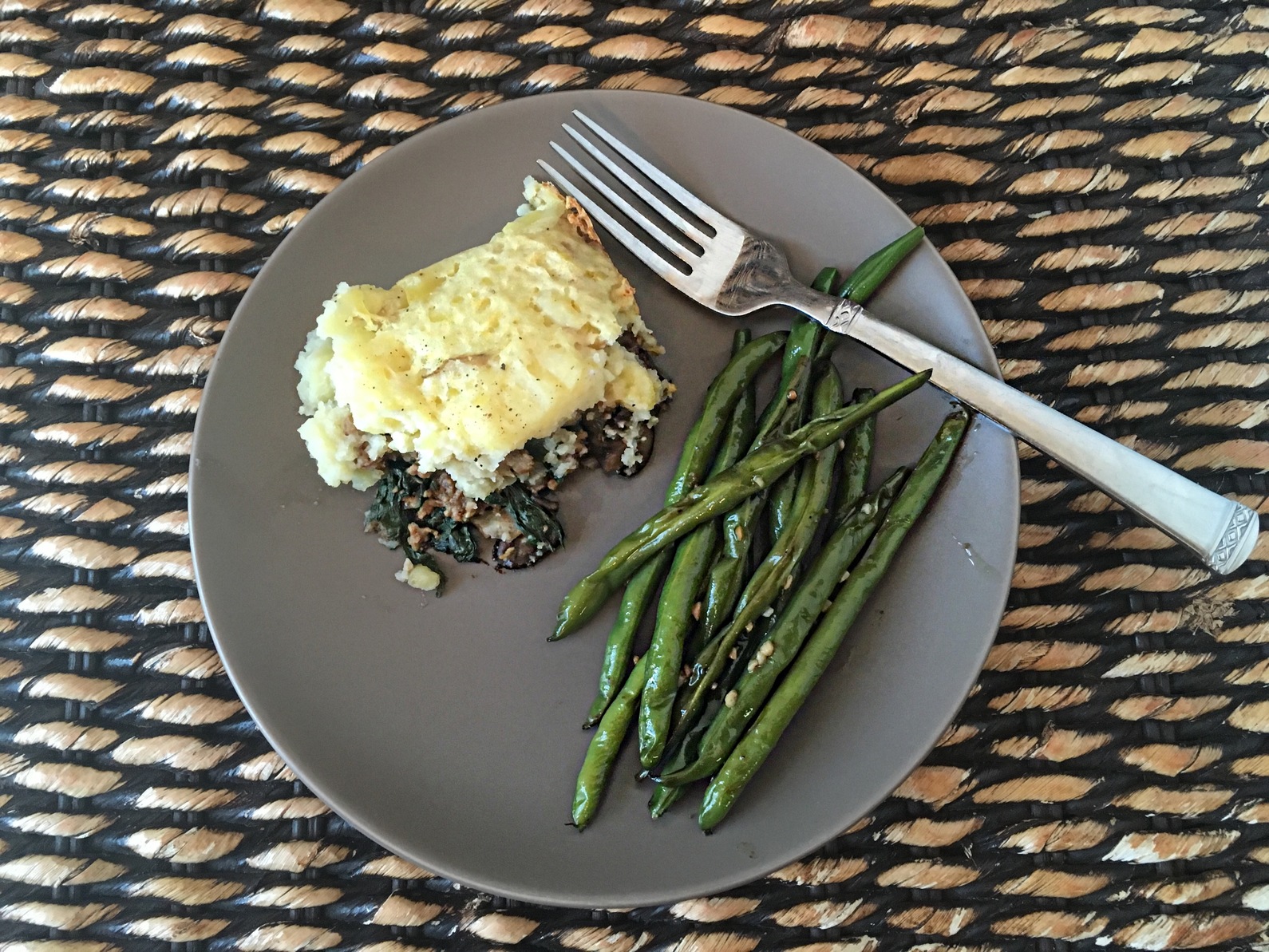 Mashed potatoes with or without skin are a personal preference, so if you'd rather not have the skins for your vegan shepherd's pie then just peel the potatoes before cooking. I personally love the texture of potato skins in mashed potatoes so I left them on and just let the potatoes cook a little longer to make sure the skin wasn't as tough. Using a potato masher made this process a lot quicker, but you could use a fork or two to mash them as well.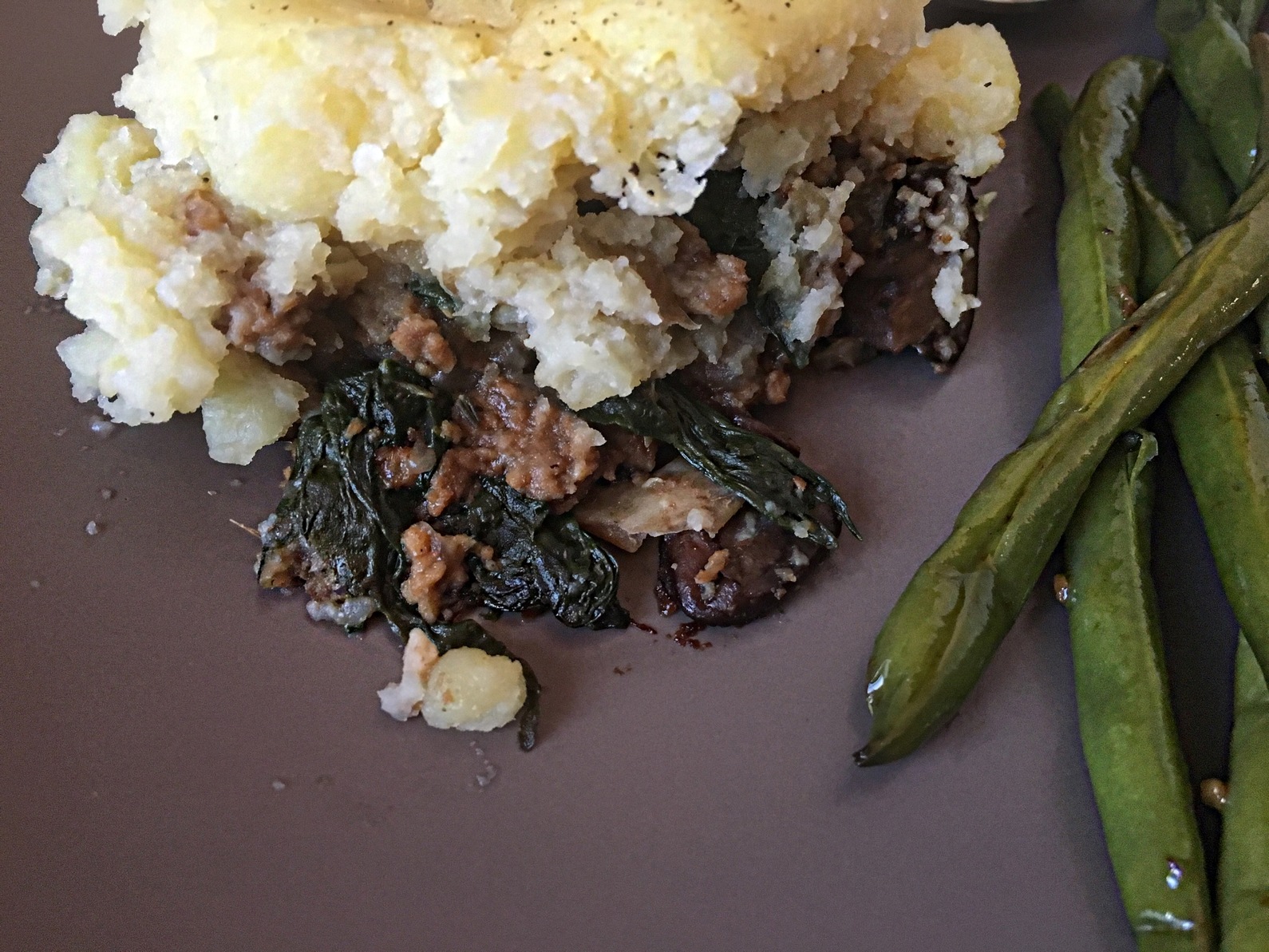 You totally could eat this vegan shepherd's pie alone, but I paired it with some fresh whole green beans. Some other options I was thinking about were broccoli or Brussel sprouts. For some color besides green, you could prepare some roasted carrots or yellow squash. Vegan or not, this is a recipe I think you'll love. Do you like shepherd's pie? If so, would you try this vegan version? Let us know. We'd love to hear from you!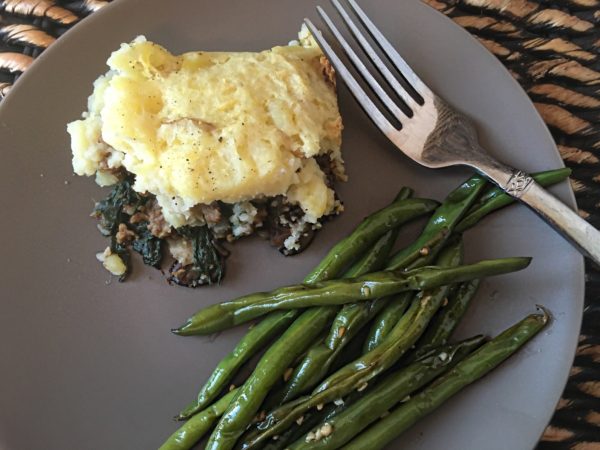 | | |
| --- | --- |
| | |
Clean and dice the potatoes. Place in a large pot, or pasta strainer pot, with enough water to cover. Bring to a simmer, then cover and simmer until tender, about 20 minutes. Drain and transfer to a 4 quart mixing bowl.

Stir the vegan butter into the potatoes until melted, then add salt and pepper to taste. Add the almond milk and mash until creamy.

While the potatoes are cooking, preheat the over at 400º F.

Sauté the onion in the oil of your choice over medium heat until translucent. Add the garlic and mushrooms and continue to sauté until the onion starts to brown.

Add the meatless crumbles and cook until warmed through. Stir in the coconut aminos, salt, pepper, and thyme. Cook gently for 5 minutes.

Combine the cornstarch with just enough water to dissolve in a small bowl. Stir into the mixture.

Add half of the spinach, and cook until it's wilted down. T Then add the other half and do the same thing. Season to taste.

Spray a casserole dish with non-stick cooking spray. Add the crumbles mixture to the dish, then top with the mashed potatoes. Spread an even layer to cover the crumble mixture.

Bake for 35 minutes, or until the potatoes begin to turn golden and slightly crusty. Remove from the oven, and let stand for 5 to 10 minutes before serving.