What do you get when you let pork be your canvas for the flavors of apple and cheddar? This delicious Apple Butter Pork Loin and Cheddar Cheesy Grits dish! Thank you National Pork Board for sponsoring this post. #TasteofNow
Now that the weather is cooler, and most of the Unites States is in holiday mode, I'm spending more mornings at home even on the weekends. Since we also have more days off from work due to the holidays, I get more opportunities to prepare a warm, hearty (but still healthy) breakfast for my family outside of our typical morning smoothies or overnight oats on the go.
Instead of going with the normal grits topped with bacon, I figured I'd take it up a notch after I was inspired by Foodtastic Mom's Slow Cooker Apple Butter Glazed Pork Tenderloin recipe I found on Pinterest. When I think of Fall, while most people think pumpkin spice – I think all apple everything. Since I knew I wanted a breakfast option, cooking the pork in a slow cooker was perfect! I could put in the slow cooker before bed, and wake up to the perfect topping for some creamy grits. Especially if you have someone who's allergic to shellfish in your family, this is a fresh new spin and great alternative to the typical shrimp and grits.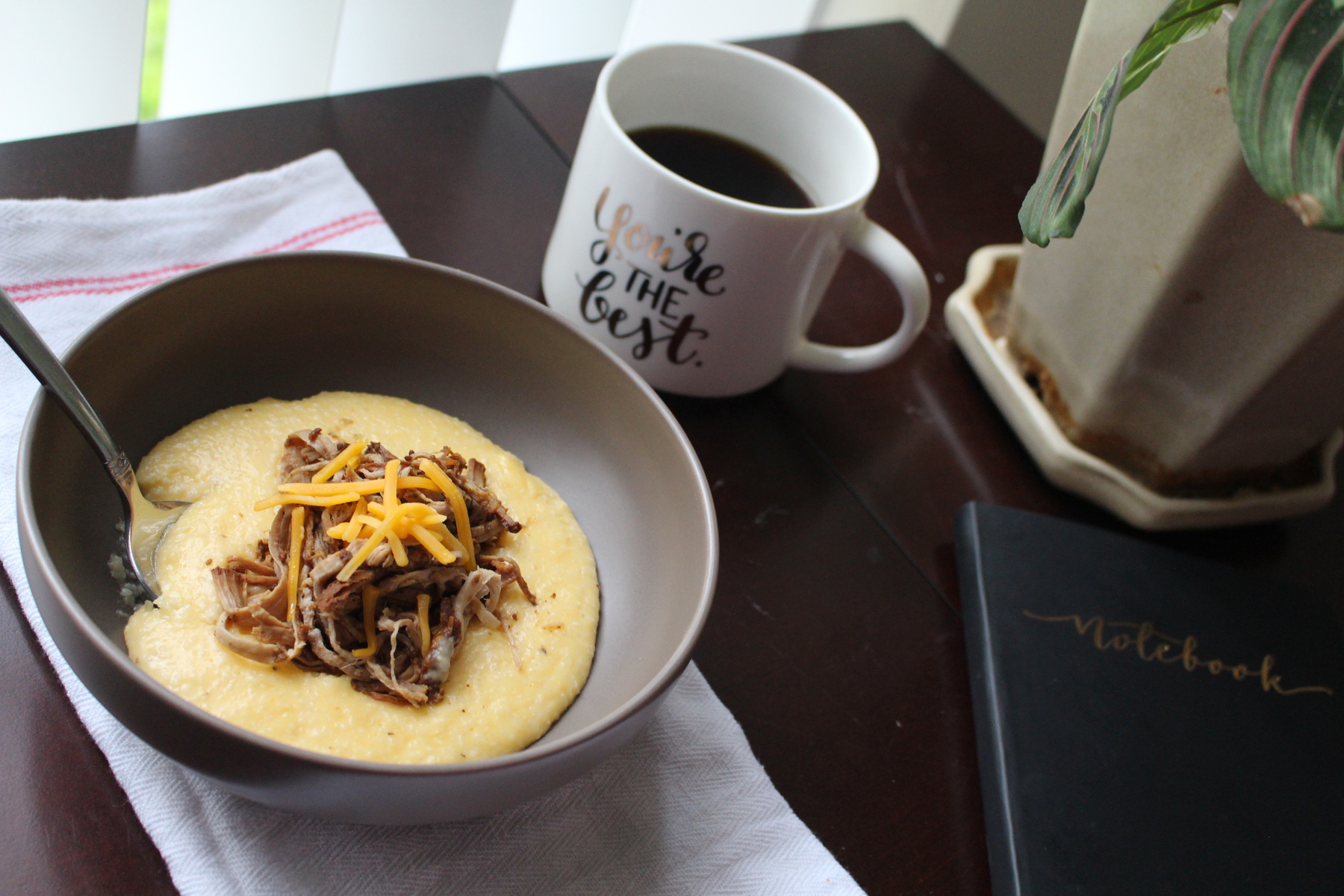 What I love about pork tenderloin is that it's a great canvas for a wide variety of flavors. Tenderloin is very lean, and tender as the name implies, so its perfect for easy shredding especially after a long night in the slow cooker. This recipe has a lot of flavor with just a few ingredients. The dry rub is made up of dark brown sugar, pink Himalayan salt, fresh cracked tri-color pepper, granulated garlic, and smoked paprika, while the glaze is a mix of apple butter, apple cider vinegar, and whole grain mustard.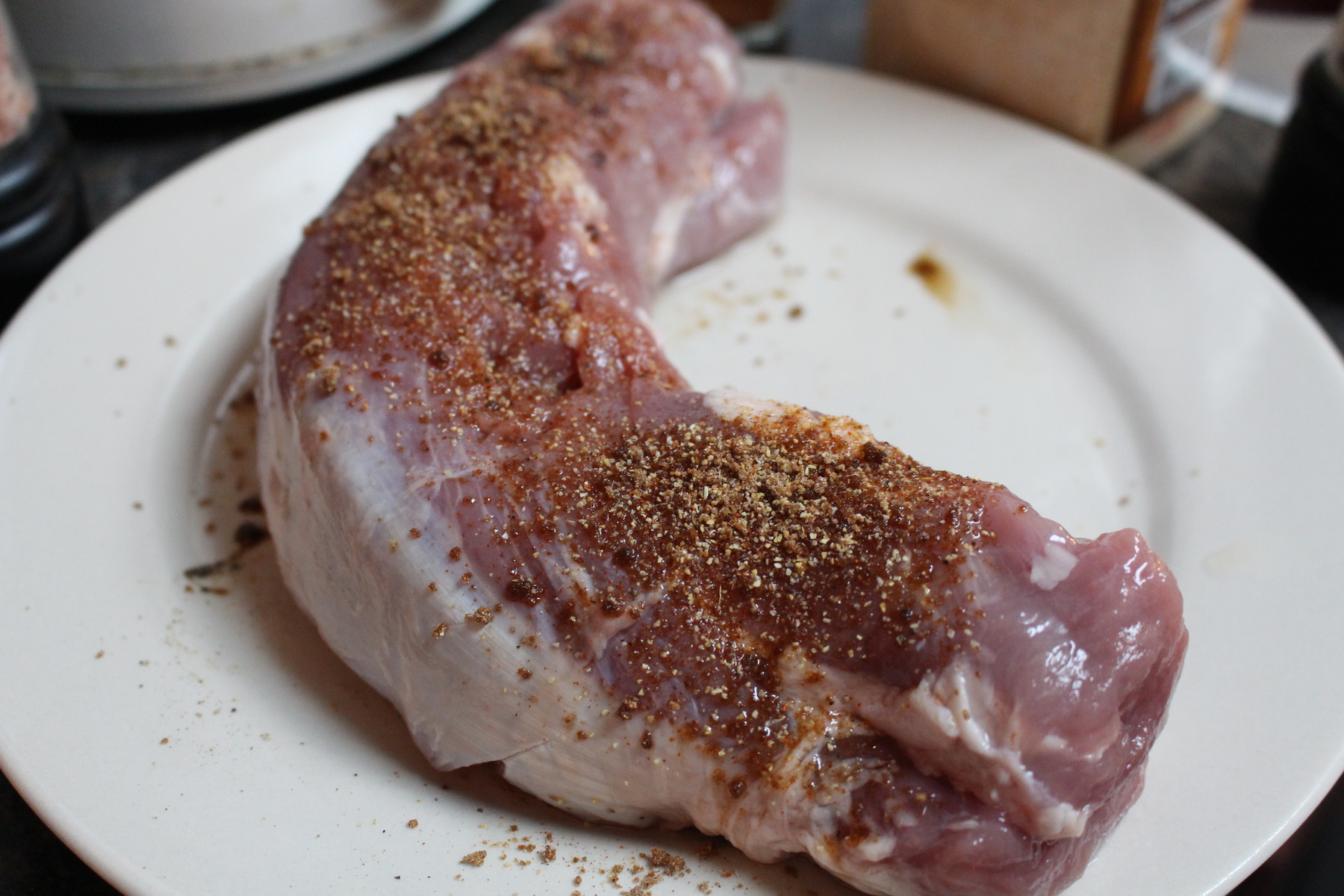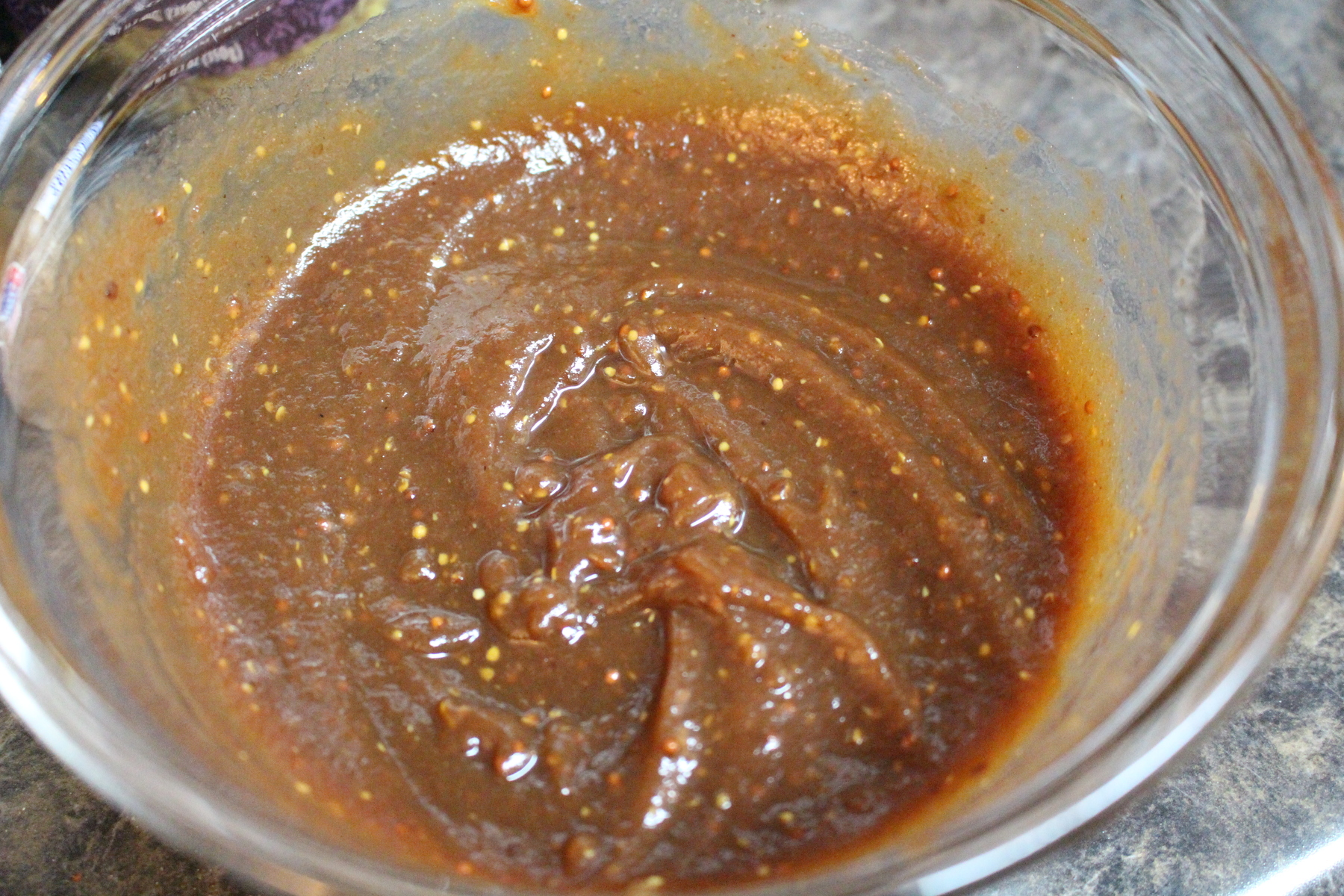 The cheesy grits are almost as easy to make as the pork. I used quick 5-minute grits, only adding salt and a little unsalted butter at the end of the cooking process. After turning the heat off, I stirred in some shredded sharp cheddar cheese because I just love how apple and cheddar flavors play off of each other. But if you have someone who is lactose-intolerant like I do, then the cheese is totally optional.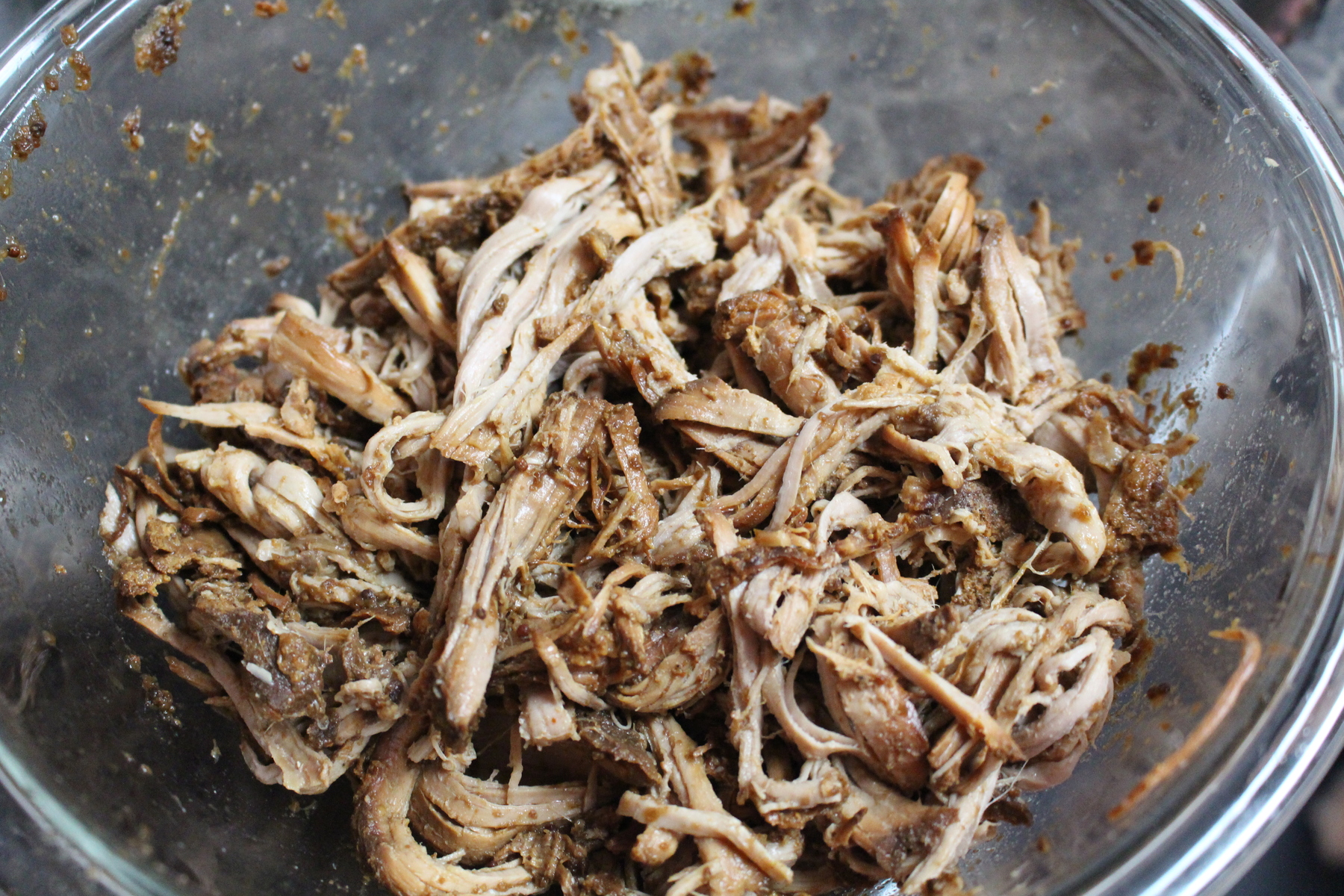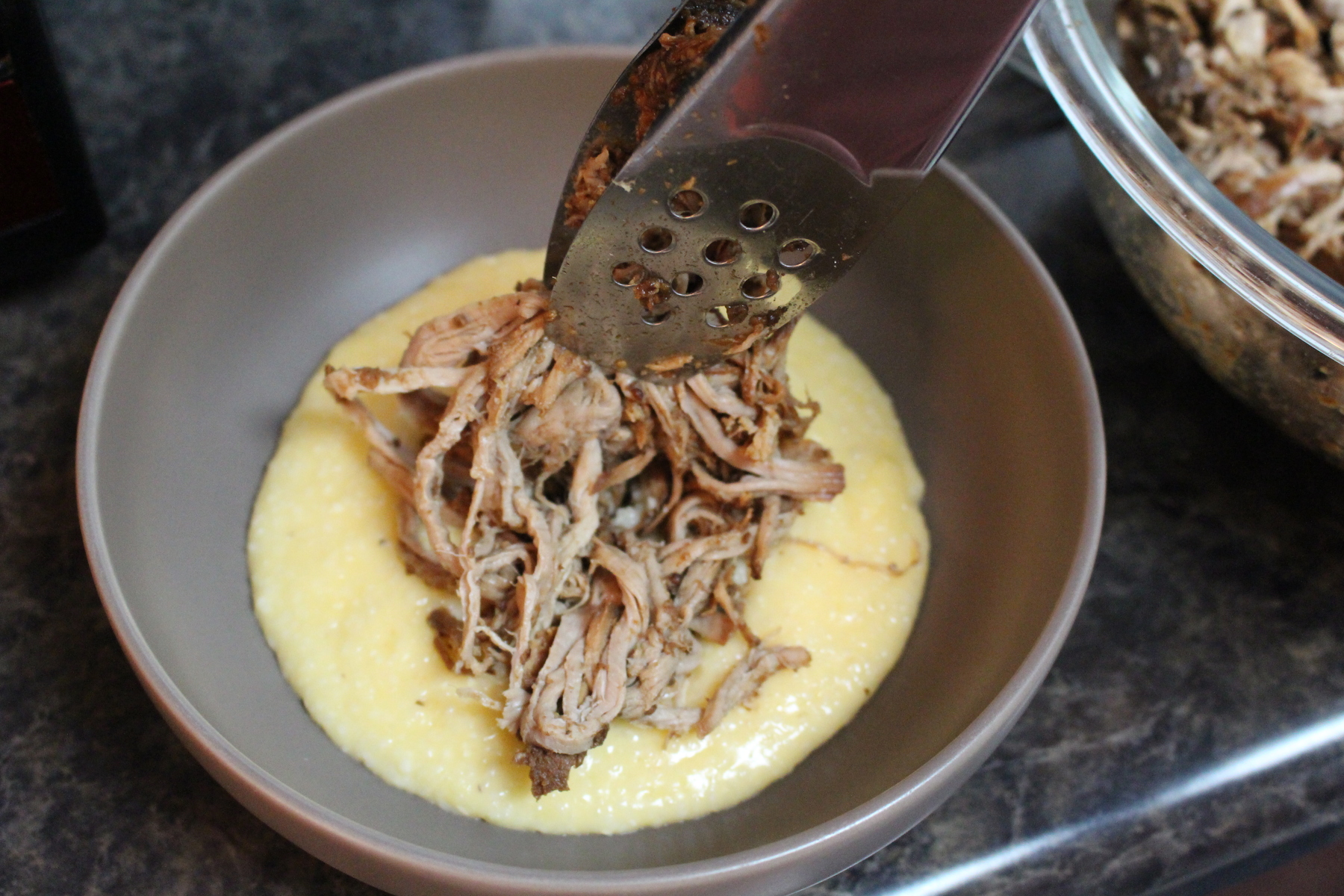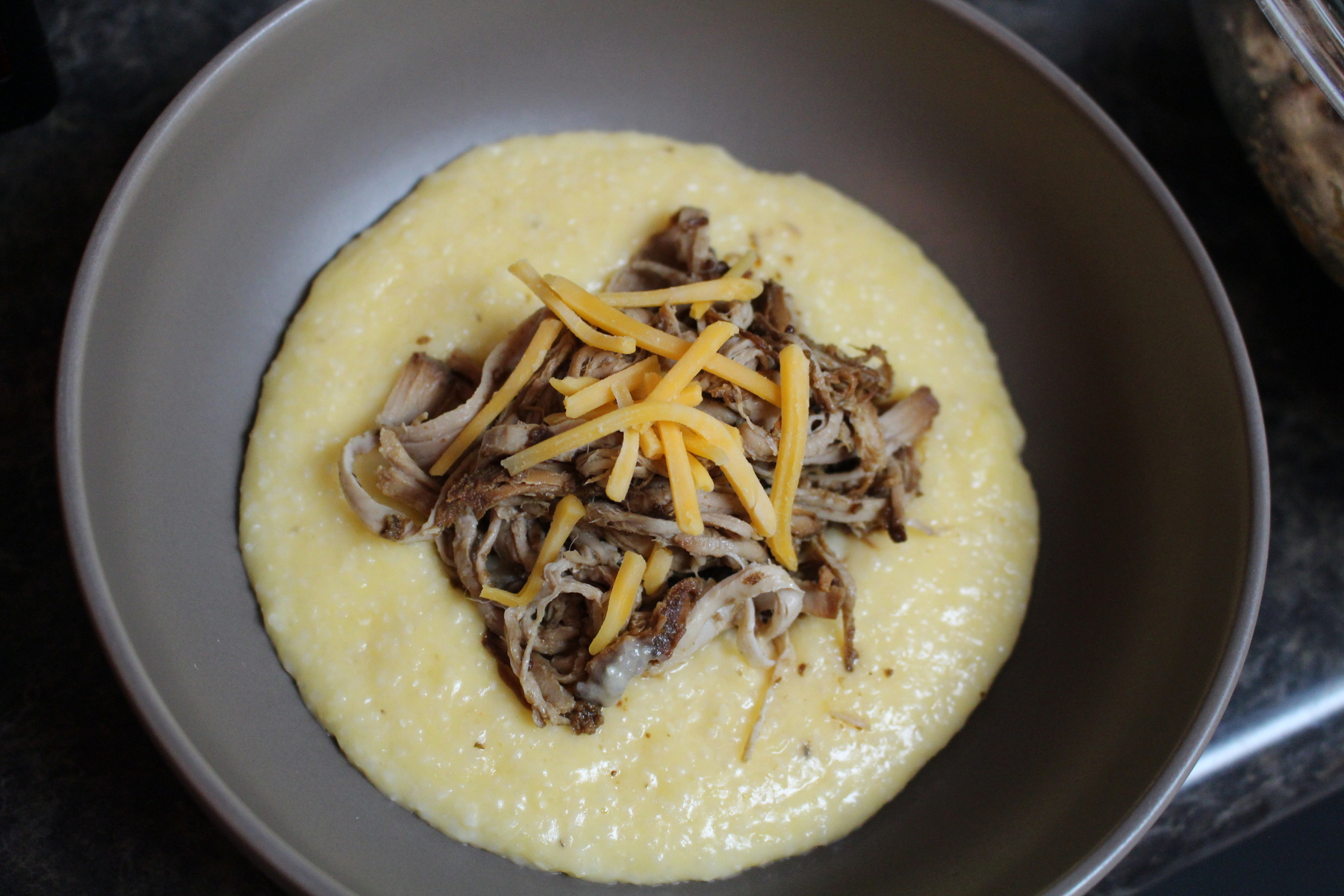 Served up a bowl of these cheddar cheesy grits, topped with the apple butter pork loin and then a little more cheese for fun, on a Tuesday. When I tell you this dish felt like warm and fuzzy slippers in front of a crackling fire place…I mean it! This meal with definitely be in the rotation during the remainder of Fall right through the New Year. Try it out on your family for breakfast or anytime of the day!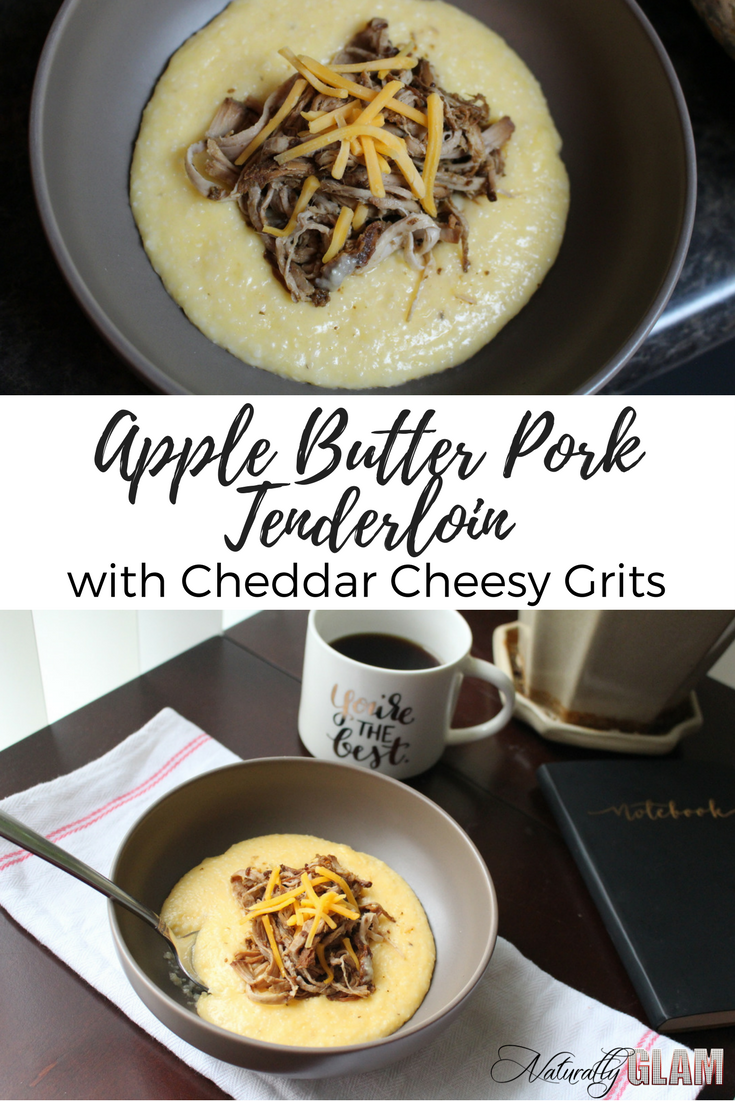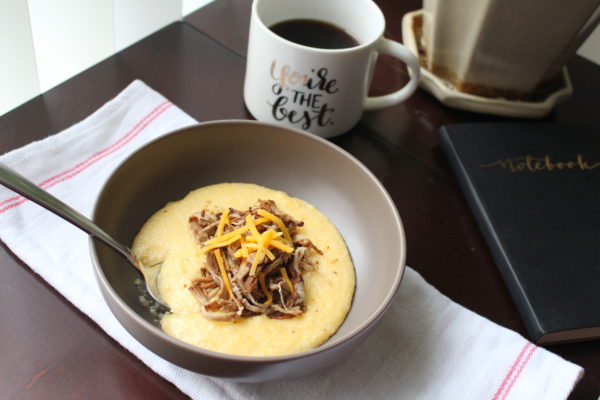 Apple Butter Pork Tenderloin
| | |
| --- | --- |
| Apple Butter Pork Tenderloin | |
Mix together the brown sugar, salt, pepper, paprika, and garlic, and rub over the pork loin. Place the pork loin in the slow cooker.

Combine the apple butter, apple cider vinegar, and mustard in a small mixing bowl and whisk together. Pour mixture on top of the pork loin, ensuring it is completely covered.

Cover the slow cooker and cook on low for 6-8 hours (or high for 3-4 hours). Once done cooking, shred the meat before serving. If you want less of the 'juice', remove the pork loin from the slow cooker and shred it in a separate bowl.

Cook the grits according to the package directions. Once done cooking, stir in butter until melted. Once melted, turn off the heat and stir in cheddar cheese until melted.

Serve the grits topped with the shredded pork. Top with more cheese if you'd like.