Cake pops are one of my favorite things especially when attending an event. I decided for my 5 Year Glamiversary party I would try my hand at making some instead of a traditional decorated cake. This party was for a small group of family and friends to celebrate them for supporting Naturally Glam from Day 1. Having everything be single-serve was one of the goals I had, and cake pops are the best single serve dessert. Since I knew some of my guests were vegan, I decided to make these easy vegan cake pops so no one would feel left out.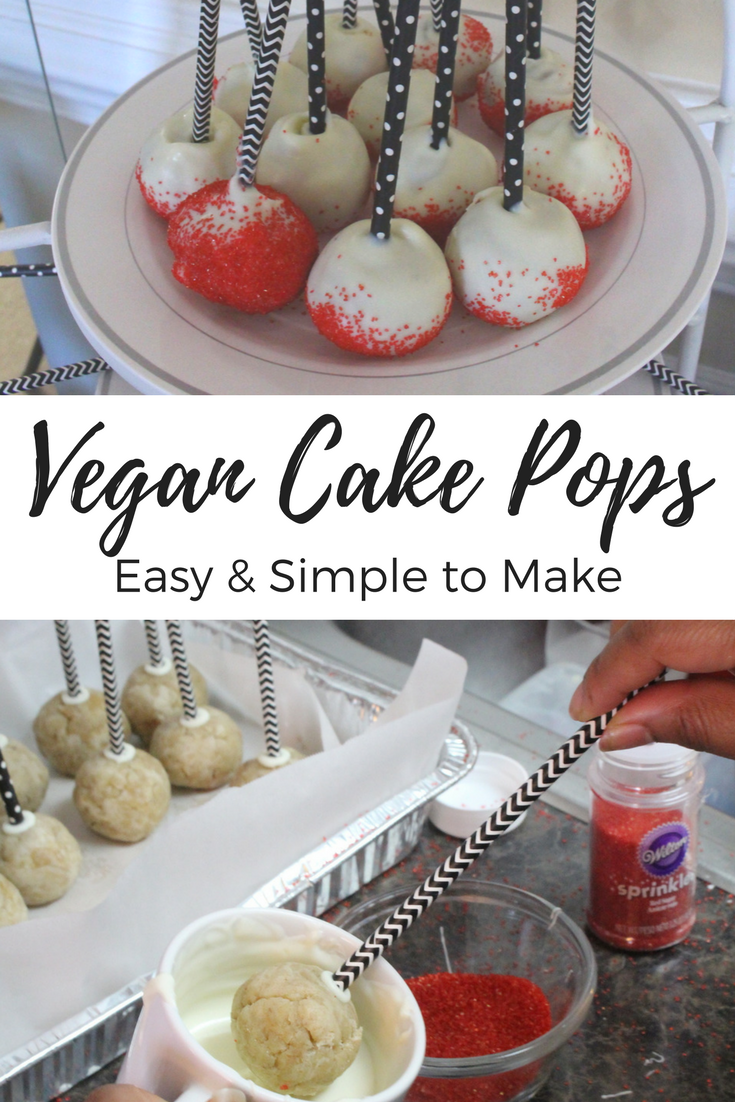 These vegan cake pops took about an hour total to make, not included the cool time for the cake itself. You could easily just use eggs if it's not a deal breaker for them to be vegan. I chose vanilla everything but you could use any cake mix flavor or candy coating flavor you like. As far as the decorations go for your cake pops, the possibilities are endless. I found lots of colored shimmer sugar at Food Lion and Party City, sprinkles of all colors, mini pearls, and even food color spray. So no matter the theme of your party, or if you're just making these for the fam, you can plenty of options.
I decided to use paper straws instead of cake pop sticks because they were so easy to fine. I already had the polka dot paper straws that I'd picked up from the 'dollar trap' at Target, and I found the striped paper straws at Dollar Tree. These were perfect because they were right on theme with the Naturally Glam visual branding, and the red shimmer sugar atop the white candy coating just make them perfect for my party.
Now that I know how easy and simple it is to make these, I will definitely be trying this out again. If you like cake pops, try this recipe and to make them at home.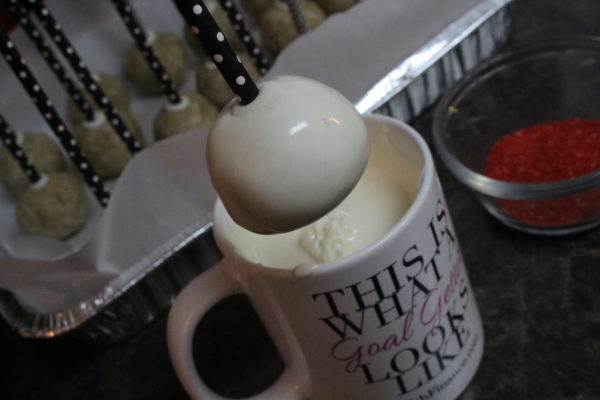 | | |
| --- | --- |
| | |
Prepare the cake mix per the directions, using Neat Egg as the egg substitute. After cake is completely cooled, add to a large mixing bowl.

Crumble with your hands until it is fine crumbs.

Add in the frosting, one large spoonful at a time. Using your hands, incorporate the frosting into the cake crumbs until they can hold their shape. I added about 2 large spoonfuls.

Using an ice cream scoop, scoop out a ball of the cake mixture. Roll the mixture into a ball and place on a parchment lined cake pan. Repeat until all the cake mixture has been rolled into balls.

Melt a couple of squares of the candy coating in the microwave in a small microwave safe bowl. Dip the tip of the paper straw (or you can use actual cake pop sticks if you have them) into the candy coating.

Insert the straw halfway into the cake balls. Place them stick side up back in the cake pan, and into the freezer for about 20 minutes.

Melt the rest of the squares of the candy coating in the microwave in a coffee mug. This allows you to be able to submerge the cake pop completely into the coating, and the handle on the mug gives you a little more control because it will be hot.

Remove the cake balls from the freezer. Dip the cake balls carefully into the candy coating until covered. Let the excess drip off; swirling and GENTLY tapping if needed. If you tap too hard, the cake ball might fall off.

Add the glitter/sprinkles while the candy coating is still wet. The coating will harden quickly, so move quickly.

Stick the cake pop in a cake pop stand, styrofoam block, or a coffee mug (like I did - use what you have) to finish setting. I put 3-4 cake pops in a coffee mug and put them in the freezer so they could set quickly.

At this point, you can finish them up however you like. You can cover them individually with a treat bag if you plan to give them away as party favors. I just placed them in a bag to display at my event.