When it comes to eating vegan, it's easy to get caught up in what they can't eat. So I try to challenge myself to try new foods so keep things exciting in my diet. I signed up for a vegan cooking class taught by my girl Nina Brewton where we cooked a stuffed roasted acorn squash. It was delicious! We actually made a ground 'meat' using walnuts – who knew. I'd seen acorn squash in the store, and honestly I always thought it was ornamental. On my next shopping trip after the class, I picked a couple of acorn squash to remix my own roasted stuffed acorn squash.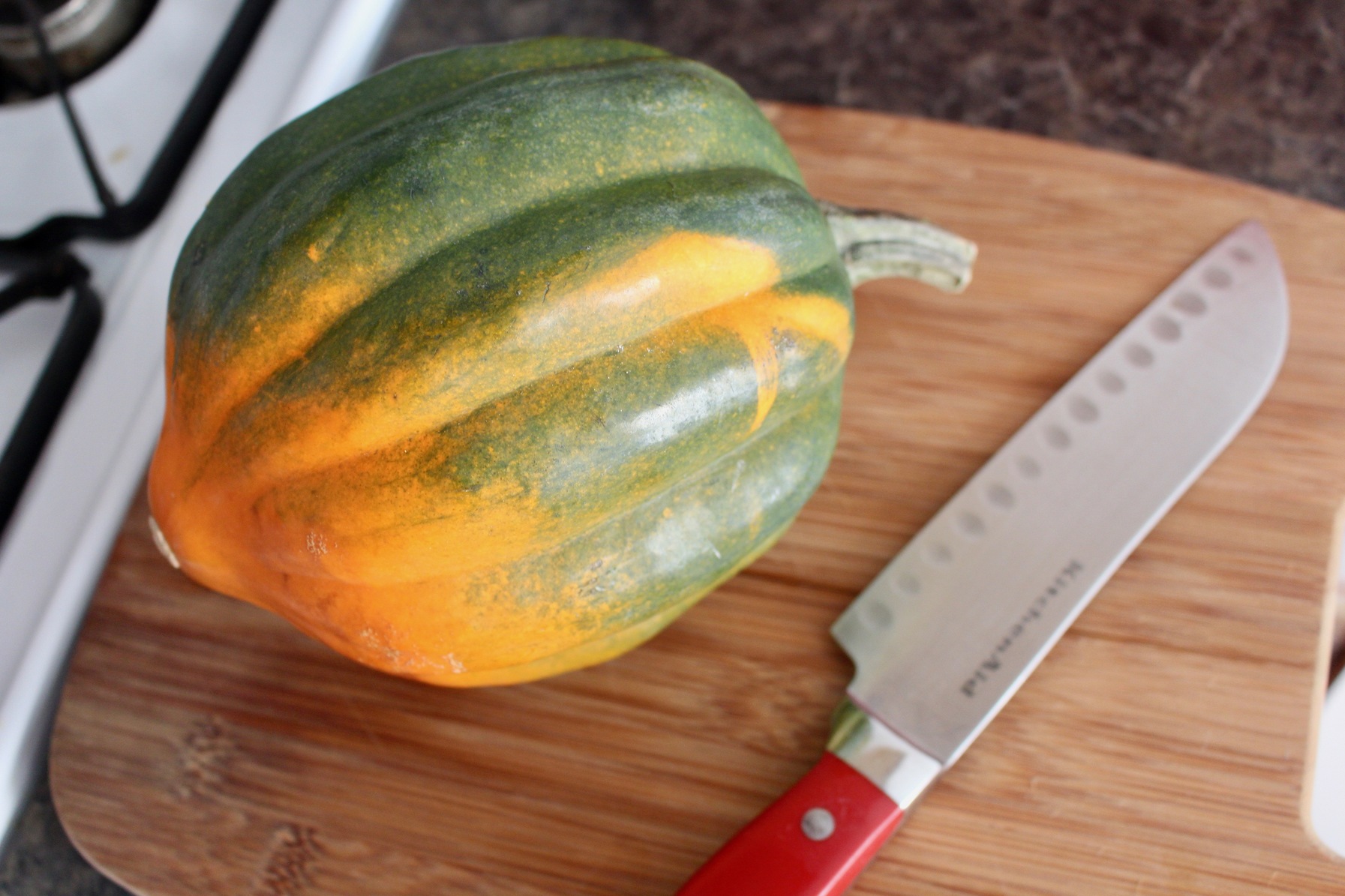 The recipe we learned in class included Brussel sprouts, but the grocery store was out of them (why Lord?!) so I opted for good ol' fashion cabbage. I also didn't have walnuts, so I used mushrooms in my recipe. If you are allergic to nuts, you could use tofu, tempeh, a ground beef substitute or just mushrooms to give that 'meaty' texture. I added onions and bell peppers, along with some jasmine brown rice for a hearty stuffing. The stuffing was so good, I could eat that by itself!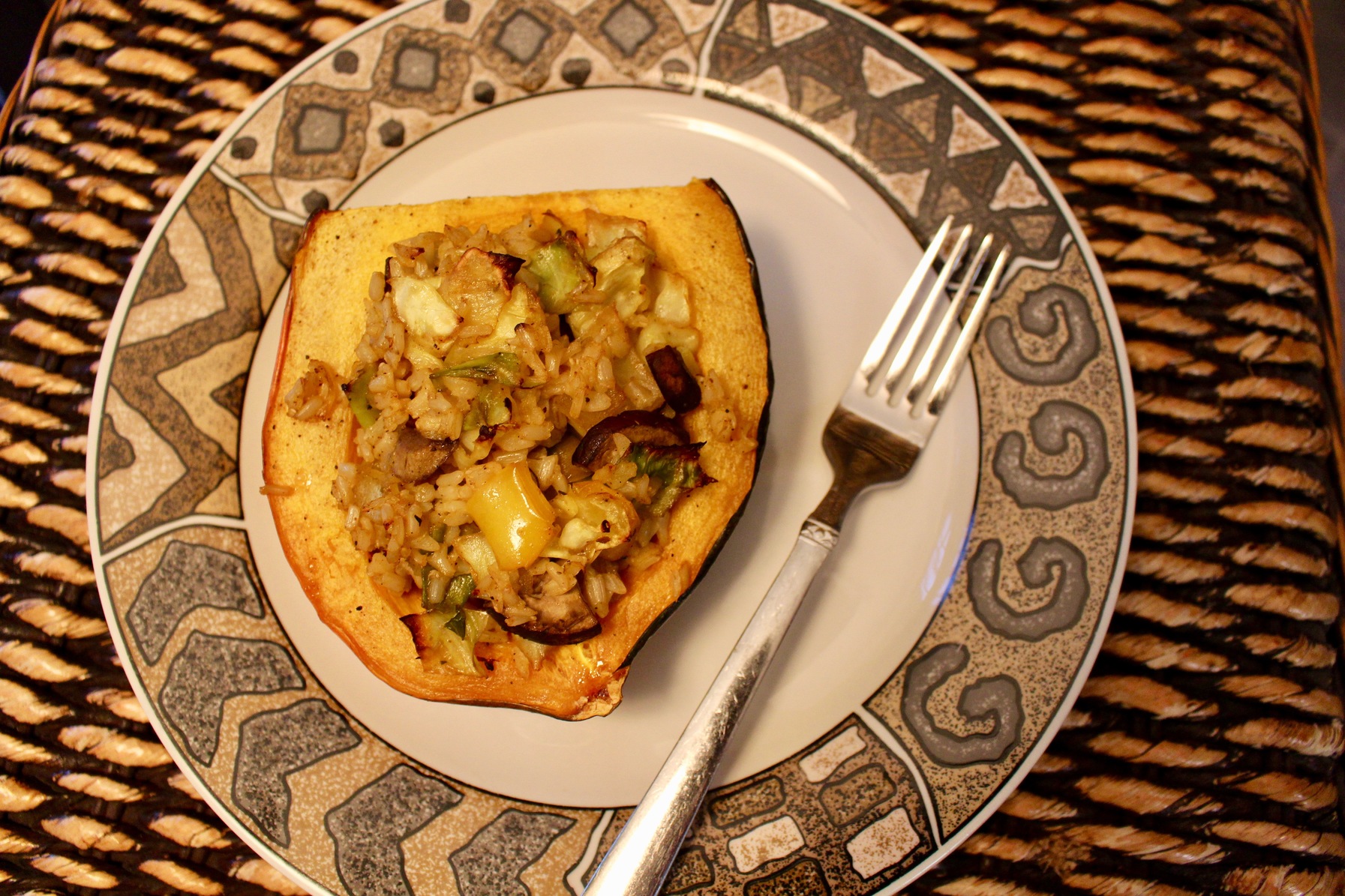 This is one of those recipes that looks all fancy and complicated on the plate, but is actually super easy to make. If you can chop veggies and take things in and out of the oven, you'll be able to stunt on 'em with this one. It is extremely versatile, because you can stuff the acorn squash with any and everything. I plan to make tons of variations of this recipe throughout the fall and winter season. One catch I will say is that this isn't the most portable thing. I didn't have a container that was the right size to take this to work in. So I just wrapped it in aluminum foil and made it work. What…you thought I wasn't going to find a way? It is just that good so it was worth it!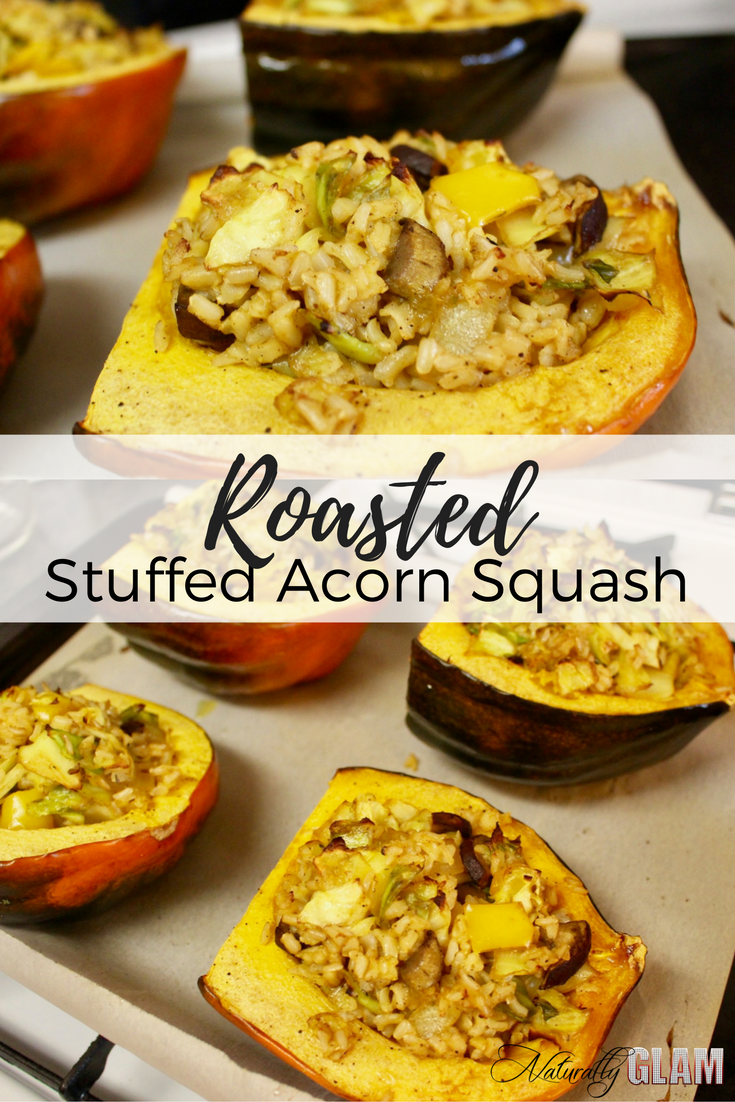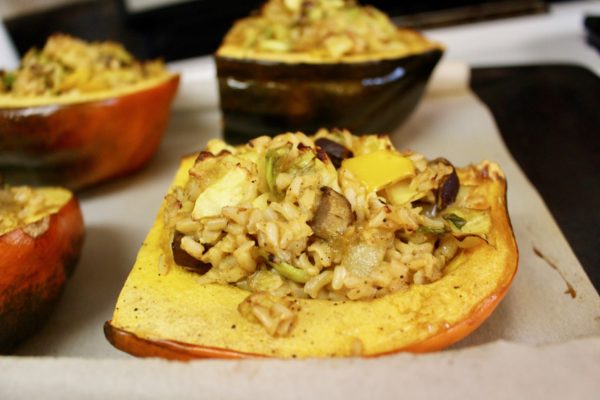 | | |
| --- | --- |
| | |
Heat the oven to 375°. Cut the top of the acorn squash off.

Place the squash on the cut side down and cut in half.

Remove the seeds from the center of the squash.

Coat the center of the squash with olive oil, salt, and pepper. Place on a baking sheet covered with parchment paper, and cook in the oven for 20 minutes.

While the squash is roasting, cook your rice per the package instructions. Also, chop up the veggies that will go in the stuffing as well. I try to cut them up in similar sizes so they cook pretty evenly.

Sauté the veggies until cooked but still firm.

Take the squash out of the oven, and get ready to stuff.

Add one cup of the cooked rice into a mix bowl.

Add one cup of the cooked mixed veggies into the bowl with the rice, and mix. You could mix all the rice and veggies together, but I wanted to make sure each squash had the exact same amount of rice and mixed veggies.

Once mixed, spoon into the squash. It's okay for it to 'mound' in the squash.

Place the stuffed acorn squash back into the over for another 10-15 minutes. Remove from the oven, and they are ready to serve.