This post is sponsored  by Saudia Green.
Healthy hair growth is a hot topic amongst women, specifically in the natural hair community.  People always ask how they can improve hair growth and retain length.  While many focus on applying different products and oils externally, others look to improve what they take in internally.  This includes vitamin supplements, like biotin which is said to improve hair and nail growth.  There are many hair growth vitamin supplements on the market that contain biotin, one of those being Hairfinity.
Hairfinity is an innovation in hair care. The ingredients promote a healthy scalp, increased hair elasticity, increased hair strength, and more. Hairfinity fills in the gaps left by your regular diet to provide your body with the nutrition it needs to grow healthy hair. Customers report hair that appears healthier, shinier, thicker, longer, more manageable and faster growing as a result of using the supplement.   Saudia Green is based at Studio CK Salon in Portsmouth, VA and is an authorized retailer of Hairfinity.  I was excited when she offered me the opportunity to try Hairfinity and share with the Naturally Glam Fam my results and experience with the vitamins.  She often times can't keep it on her shelf! Each bottle is enough for 30 days, and retails for $28.  I take two pills every evening with dinner.
Below is a picture showing my first length check since finishing the first bottle of vitamins.  As you can see, there was definitely growth happening.  Also, what isn't pictured is the growth I'm experiencing on my temple areas which tends to be thin.  I'll show pictures of that on my three month update.  I was asked if I had experienced acne breakouts or yeast infections, which some report.  I did not experience that, but I do know that breakouts are a common side effect of biotin. I experienced no noticeable side effects from taking the vitamins.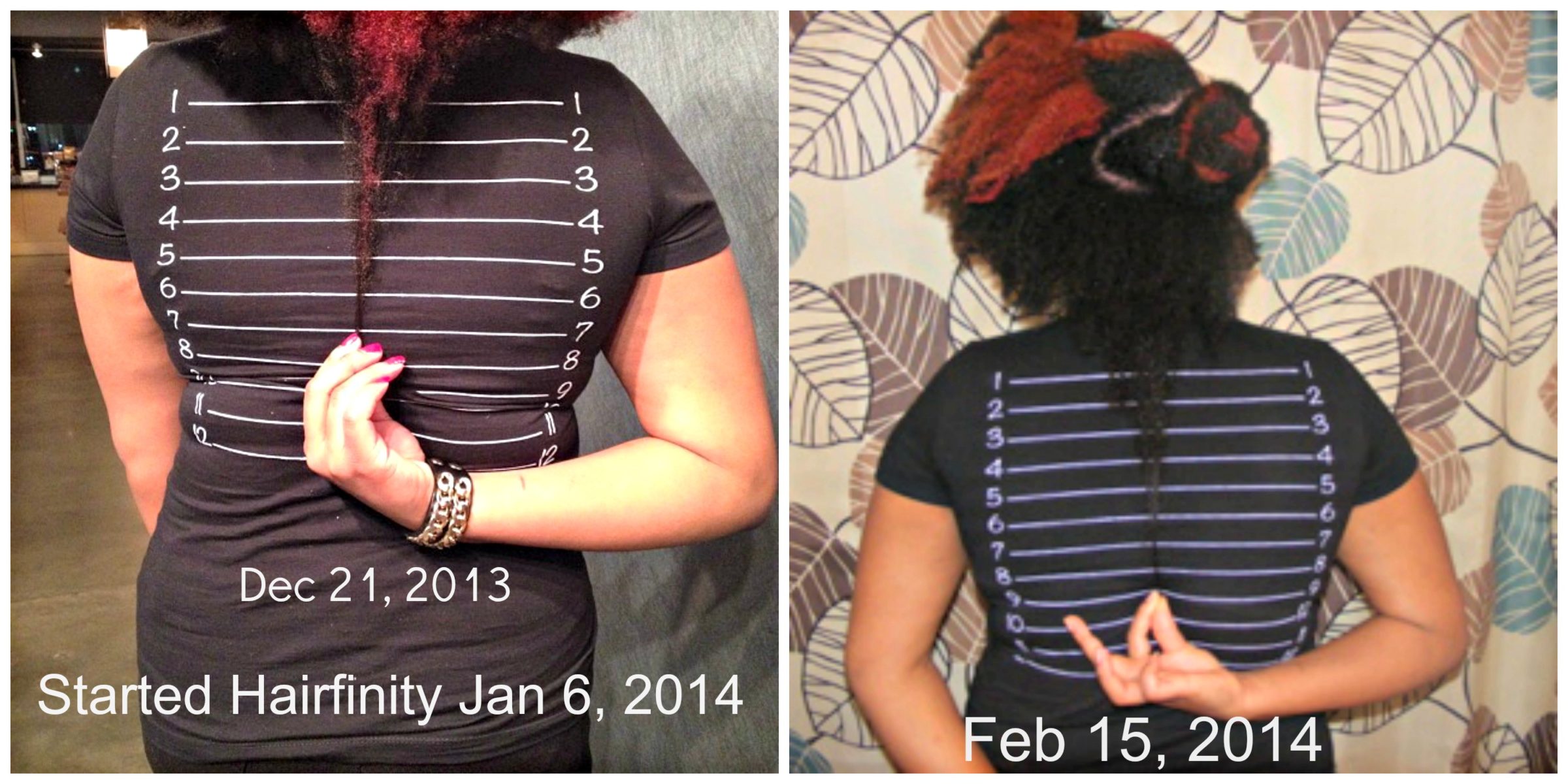 Like my shirt? You can get this Length Check t-shirt from designed by Saudia.  Follow Saudia on Instagram at @i_rock_my_natural.
Tell me, have you tried Hairfinity or any other hair growth vitamin supplement?
I received complimentary Hairfinity vitamins and a Keep Calm and Check My Length shirt in exchange for writing this post.  Although this post is sponsored, all opinions are my own.