Most airlines allow you to bring one piece of carry on luggage and one personal bag (also known as a personal item) in the cabin when flying. When it comes time for me to pack my personal bag for a trip, I make sure the most important things I may need during the flight are in there. Thankfully, I received a complimentary bag from Knomo London to try out while traveling to San Juan. The Beaux bag was the perfect personal carry on bag, because it was the right size, it left my arms and hands free, and it kept me organized.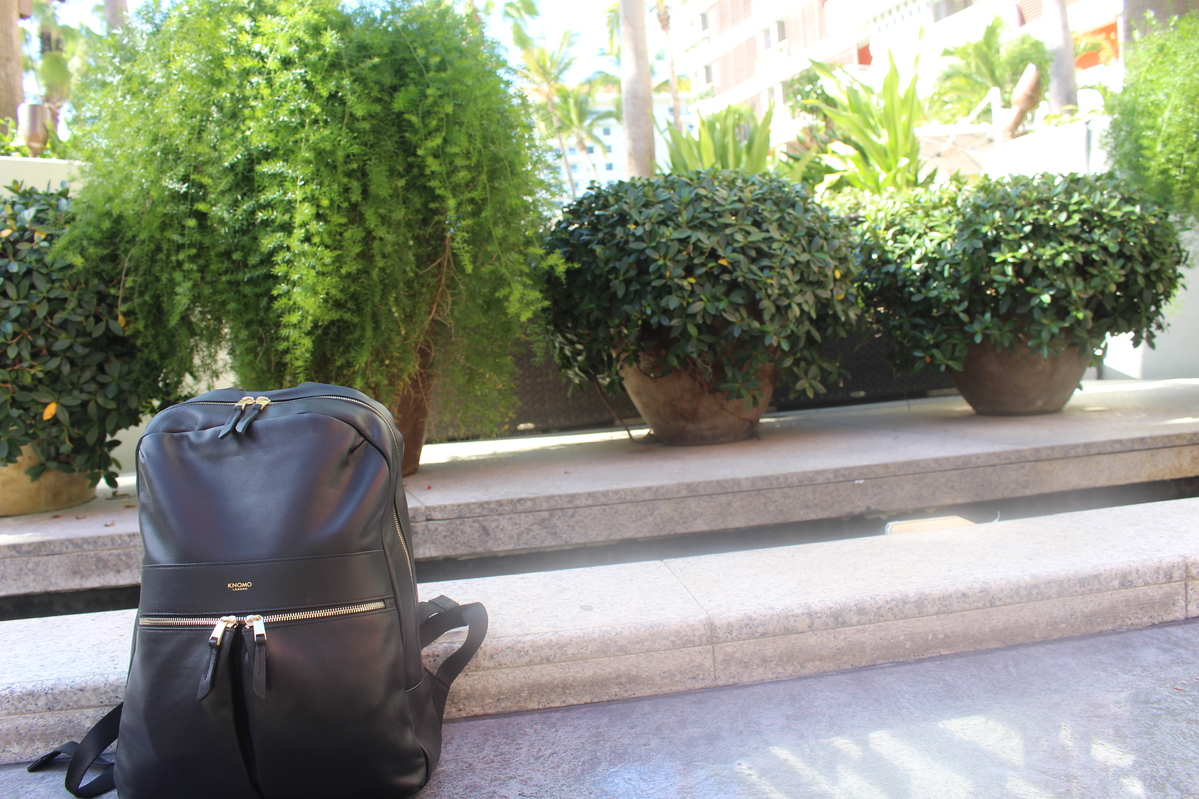 When it comes to your carry on bag vs your personal bag, the difference between the two is really just a matter of size. Each airline has their own size and weight limits that you should check before traveling. But generally speaking, a personal item is smaller in size than a carry-on and must fit under the seat in front of you, unlike your carry on luggage that will either be stowed in the overhead compartment or elsewhere during the flight. For that reason, I've learned over the last couple of years of flying to keep anything you might want to access during the flight in your personal bag.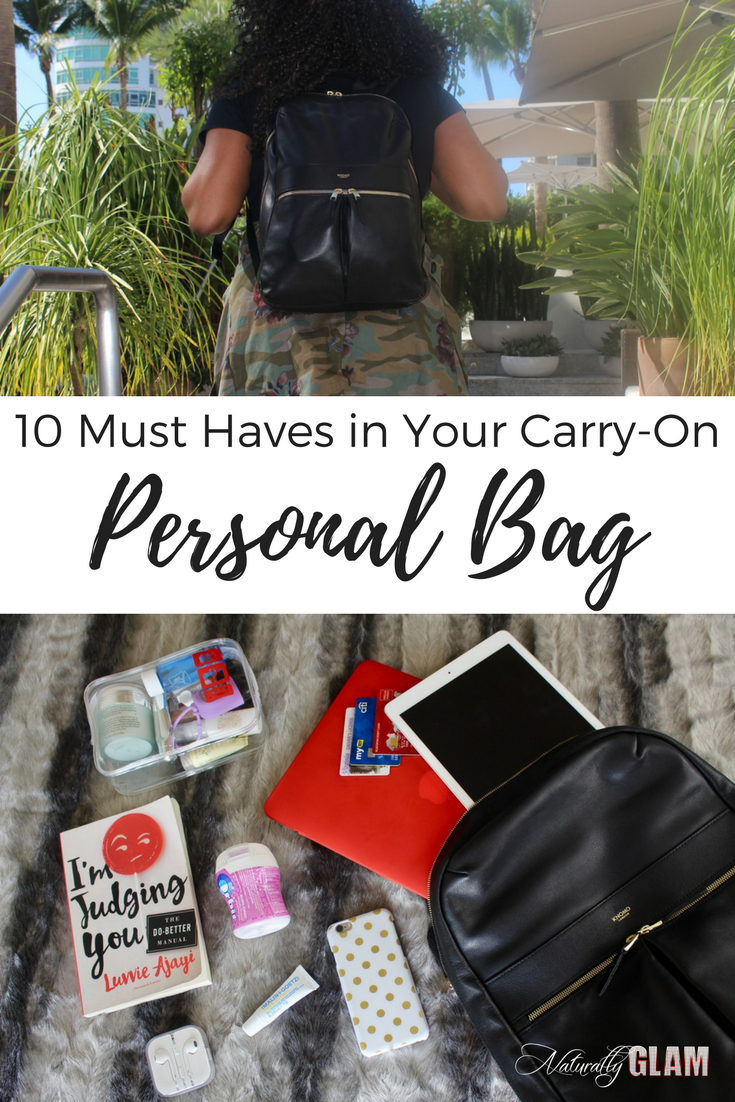 10 Must Haves for Your Personal Carry On Bag
#1 – Laptop. Because work has to be done. For a flight that's longer than an hour, I definitely like to have my laptop so that I can get work done. Sometimes, I use that time to just go through my files and delete things I don't need, and organize the files I do have. You can also download movies and music before your trip, so you can entertain yourself while on the flight.
#2 – Tablet. As a backup to the laptop for the time on the flight when you can't have out your larger electronics, I like to bring my iPad. It is also a great back up when space is limited and you don't want to drag out your laptop.
What I love about the Knomo Beaux backpack is that it is designed for carrying your laptop/tablet. The large back pocket is padded, as well as the back of the bag, so it is cushioned perfectly to make sure your electronics are protected.
#3 – Earbuds. Most airlines require you to use headphones or earbuds with your devices when playing music or movies, so that you aren't disturbing other passengers. So be sure to have a pair. I like Apple earbuds because they are compact, and work for all of my electronics.
#4 – Driver's license/ID. Just to make it easy when going through airport security, I like to keep my driver's license right in my personal bag. That way I can whip it out, and put it right back quickly. I like knowing exactly where my ID is at all times, so I make sure to put it in the same exact spot every time.
#5 – Credit card. If you decide to make any purchases in flight, like wifi, food, drinks, or movies, you'll need your credit card. If you have to pull it out from an overhead compartment, that's just a hassle so I make sure it's in my personal bag. The Knomo Beaux bag, and many other bags from Knomo, are equipped with RFID signal blocker lining to protect your personal information as well.
I love that the Knomo Beaux backpack had a couple of slots just for cards. I didn't even bother to carry my wallet on this trip. I just carried my ID and a couple of credit cards, and that saved so much space and hassle.
#6 – Liquids bag. Because you have to remove your liquids bag and laptop from your carry on items when going through security, I just like to keep them both in my personal carry on bag. It just makes the security process a breeze. Who wants to be the person holding up the line at the security check point? Certainly not me!
#7 – Cell phone. I love using the airline apps to access my boarding pass, as well as to keep up with any flight updates. When my phone is not in my hand, it's in my personal bag. I like putting it in one of the front pockets of the Knomo Beaux bag so I can pull it out without having to open the larger compartment of the bag.
#8 – Book. If you so happen to not be able to use your electronic devices to be entertained on your flight, make sure to have a good book in your personal bag. I recall one flight where the turbulence was so bad, we never got the okay from the pilot to take out our electronics. Fortunately I had a book to keep my occupied and less focused on the turbulence. Plus, being on a flight is a good time to sit still and get some reading done.
#9 – Chewing gum. Even if you aren't a gum chewer, chewing gum can help relieve airplane ear or ear pressure caused by the fast changes in altitude while flying. You can also suck on hard candy as well to trigger swallowing, which also helps. Again, this is something you don't want to have to dig around for when that airplane ear hits.
#10 – Lip balm. Don't get caught out there with dry lips. Especially if you are like me and the skin on your lips turns over (peels) often. Keep your lip balm in a spot in your bag that you don't have to dig through other things to get to. Another reason I'm loving Knomo bags. There are so many pockets to keep things organized and easy to find when you need them.
Bonus – Sanitary products. Sorry guys, but I could not leave this one off of the list for all the ladies. You might also want to keep a couple of sanitary items as well in your personal bag, just in case. Nothing worse than having your monthly visitor show up while you're on a flight.
Next time you're packing your personal carry on bag, make sure you have all of these things inside. If you are looking for the perfect bag for your personal carry on, check out Knomo London. They have bags for both men and women, in tons of styles and sizes to cover all of your needs. Everything I listed here fit perfectly inside of my Knomo Beaux backpack, with TONS of room to spare!
Did I catch all of your must have items? Or did I miss one of yours? Let me know in the comments.